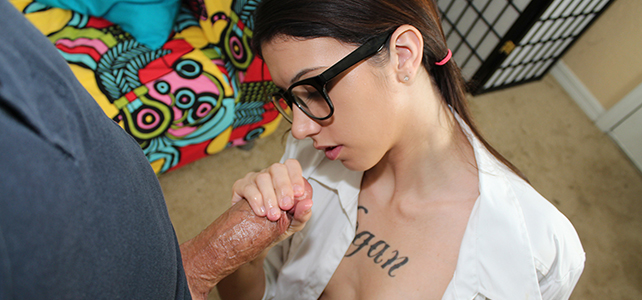 Blog

Brunette Teen Logan Lace Needs Some Handjob Practice

On February 27th, 2014 by Dominic

Hot teen Logan Lace is a brunette cutie, wearing a pair of glasses that make her seem like the sexiest schoolgirl ever. The horny teen babe has a date tonight and she is really nervous, because she apparently wants to impress the lucky dude. The thing is, the sexy innocent babe has no men experience at all, so she needs some help, right here, right now. Logan Lace asks Pike to allow her try to give him a handjob, just to test her skills, before her big date. The naughty teen slut uses some lube and starts stroking this big fat cock, surprising Pike with her unbelievable handjob talent. It seems that her lack of experience in jerking cock does not affect her at all, as her talented hands know exactly how to jerk a big boner. The brunette girl makes Pike wondering if this is really the first time she catches and strokes a prick. He can't believe how cute her face is, and her sweet baby expressions while jacking him of, give him an erection he has never had before. Logan Lace keeps jacking him of while exposing her cute tits and her sexy chest tattoo. The more she jerks this boner, best her strokes become, and this makes her asking for a big cumshot that will be the perfect finale of this amazing handjob treatment. After some minutes of unbelievable strokes, Pikes release all the semen which blasts on her sweet face and glasses. Congratulations Logan! Now you are ready for your first date!