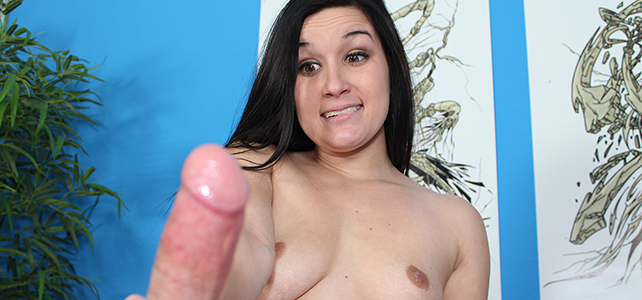 Blog

Teen Molly Bliss Massage Handjob

On March 29th, 2014 by Dominic

 Molly Bliss is a very popular masseuse because she knows exactly how to take care of her clients. They come in stressed out and exhausted and she uses her hands to magically work all the kinks out of their bodies. Her massage services are all-inclusive meaning they always come with a happy ending especially if the client laying on the table before her is none other than Ben, the man with a massive boner. The horny teen babe is glad to see this client has a big prick. Apparently she loves big cocks, and she is ready to give him a cock jerking treatment he will remember for a long time. The brunette young girl starts by sensually stroking this dick, and she is glad to see Ben really enjoys this handjob massage. She gives him some awesome topless strokes asking for a big cumshot that will help her client release all the stress. Having suck a cute face and sexy body, it is really hard for any guy to hold his jizz for long. Before Ben even realize it, he is ready to explode with a big pop for her. Molly Bliss keeps jerking his boner saying him how much she loves his big sized erected boner, and it is a matter of time until he gives her exactly what she is asking for. Finally, Ben releases all his cumload for her, and feels relaxed and happy. Thank you very much sexy Molly Bliss! I will come back very soon for another cock treatment.