So you like older women, no? I have Whitney Wonders here on the agenda for the day and I think you are going to like her. She isn't some stick figured barbie doll, she has meat on her bones, more experience than any of the girlfriends YOU are ever going to find and probably the biggest tits. She has tanlines, she has a little chub – she is real, not fake. This redheaded milf with big fake titties loves getting her hands on massive cocks and teasing them until she is finished. She knows she is turning you inside out with excitement and that's what turns her on so much.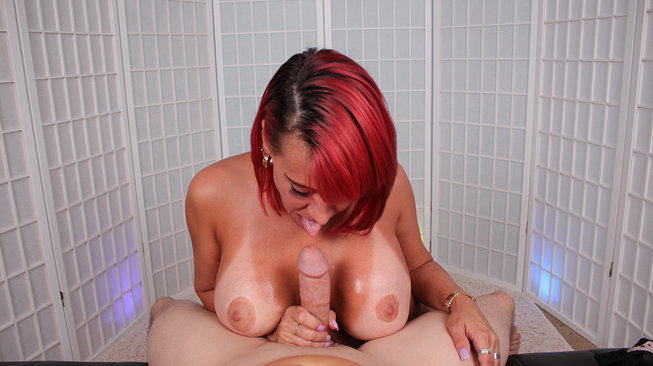 Whitney Wonders isn't the type that has to be the meaning of the word perfection, that's boring and not much fun at all, she is a sweet and very horny woman over40 that loves making cocks cum on her massive funbags. Her tits are big enough that when she gets to that part, your cock all but vanishes in the middle of them as she wraps them completely around your cock! Over40handjobs has all sorts of real women, women that love the cock and love showing you their skills – who says you can't have sex and love the dick after your 40ish?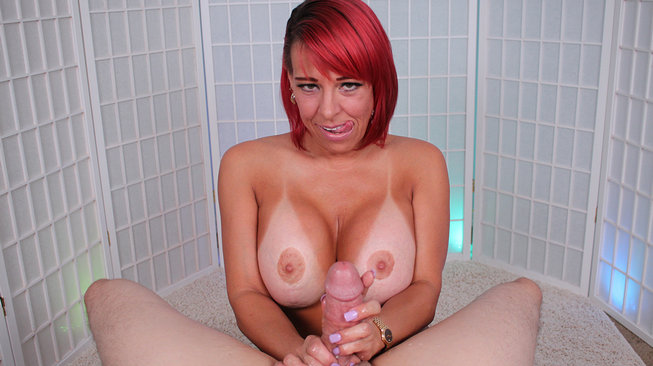 She gets this cock all lubed up and before you know it, you have lost complete control of your own cock and this busty amateur milf has all of it, not much you can do about that now, is there? This woman is all about the cock, and sure she wants to give you your happy ending, but not a minute before she decides it is time and she may give it to you, or maybe she isn't done playing with it yet, what do you think? Which do you prefer? Most guys I have talked to like the gentle teasing and the time, not just slapping their meat and letting them be on their way, despite what they tell the boys. Join Over40Handjobs now for all of the older ladies treating the cock like it's an extension of their hands.
Click here for more Over40handjobs with Whitney Wonders titfucking his cock