Joey's step Mom Texas Patti has given him a supply of ENDLESS hard ons for years. NOW he was old enough and he felt her and his Fathers relationship had deteriorated to the point he decided, what the fuck have I got to lose? and asked her if she wanted to fuck NEVER expecting what was to follow.
Texas Patti was shocked when Joey posed the question. She never knew him to be so bold. He explained that he has wanted her for the last 5 years since his Father first brought her home. She said "I just can't fuck you while I am married". But I don't want to say no either. She stood right in front of him and stripped completely naked and said "follow me". Joey quickly exited his own garments and with a full raging boner quickly followed watching her perfect naked ass that he had previously only caught passing glimpses of.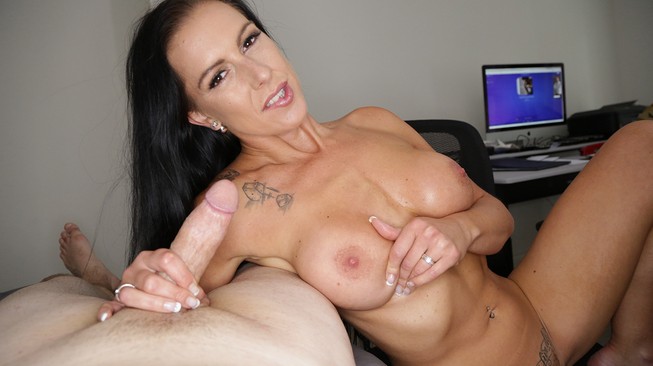 Stepping into her home office she told Joey to lay on the futon… She said "I am NOT going to fuck you… but I WILL get you off. She pours her favorite flavored lube on to Joey's hard cock and starts sliding her hands up and down while looking him in the eye. Asking if he liked it Joey was only able to muster a barely audible yes while his horny step mother ran her long fingers traced the ridge of his cock head sending shivers down his legs.
Texas Patti quickly ran her silky hot mouth over his cock engulfing it completely in what seems to be a surprise for BOTH of them then flicking it with her tongue while saying "oops… lost control for a second there". Joey forced his eyes shut because every time he looked at her beautiful face he felt like he was going to cum and he did NOT want it to be over yet.

Texas Patti then twisted her body around exposing her pussy to him. "WOW… A tattoo"! Joey never knew she had a tattoo THERE. She told him to look at her pussy and imagine his cock sliding in and out of it while he sucked on her perfect tits. Once again Joey had to tilt back his head and close his eyes to keep from cumming. She then repositioned herself and began stroking his trembling cock between her tanned tittles telling him to look her in the eyes while she did it. She said "I want you to remember this for the rest of your life". This horny milf handjob was one that Joey is going to be thinking about each time he touches his own cock!!

Joey exclaimed that he was going to cum. Texas Patti then repositioned herself once again exposing her pussy to Joey and told him to just let go… and he did… Cum started spewing from Joey's aching engorged member as Patti stood him up and with a smile said "cum on Mommy big boy" His twitching spurts finally ended after what seemed like forever had her hand firmly clutched his still throbbing cock.
Joey got word that Texas Patti filed for divorce a week ago… it was in a note from her telling him to come over as soon as the divorce was final and then he could do more than LOOK at her tattooed pussy.