Tyra is a cock hungry MILF that can NEVER get enough of that hot, milky white venom milked out of a trouser snake. But she continues to try and fill her insatiable appetite and we continue to watch. The first thing she must do is play a little bit to get your cock nice and hard. And she knows every right move to make. Starting with her sexy red outfit she showed up in that is barely covering what promises to be a very sexy body. And as she sees you are wanting to peek she happily grants your wish exposing her awesome big white breasts. That seductive look in her eyes is on purpose and just for YOU! Lying back on the bed she shows you EVERYTHING she has as your cock springs to attention and your eyes follow every curve of her sexy body.

She tugs open her glistening wet slit like the raunchy girl you expect filling the air with her pussy musk and you cant take any more so stepping forward you shove your cock into her willing wet mouth. She looks you in the eyes as she begins licking and stroking your throbbing meat with her tiny tongue and fingertips. She is surprised how much your cock has grown since you first crammed it into her mouth. Now it appears as though YOU have the upper hand as amateur milf, Tyra praises you for such a huge dick and sharing it with her. Her sticky spit mixing with your pre-cum is getting hotter and slicker with every lick.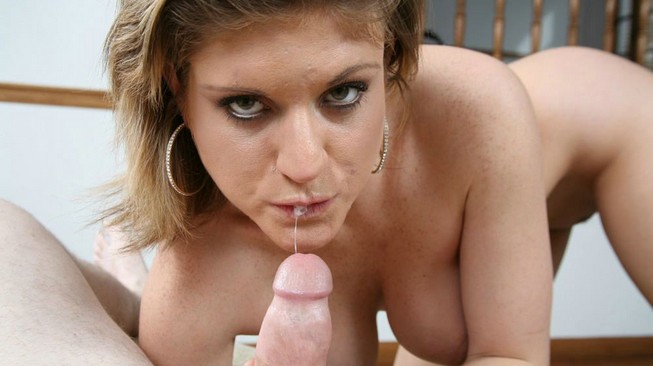 You have NO choice to cum as you watch her tits swinging back and fourth and as she continues to moan and lick your cock and her eyes trying to stay in contact with yours but rolling in ecstasy as your balls tighten and then without warning spraying your jizz in her face as she is at first surprised by it and then begins to lap up every drop while moaning in pleasure and praising you for letting her enjoy your cock. That is one hell of a woman there… that is one hell of a MILF. ClubTug is packed full of hi-def handjobs by teens, milfs, grannies and more!