Bella is an innocent teen brunette amateur that has grown to love cocks so much, big or small, she will play with them all. She loves it when they cum on her glasses and she can feel it running down her cheeks. She grabs this one with both hands because it is so big and she plays with it like it's a new toy she just got, and I guess in a way she did get a new toy, right?  This girl is so excited to stroke his cock until he cums that she was barely able to stop giggling in anticipation.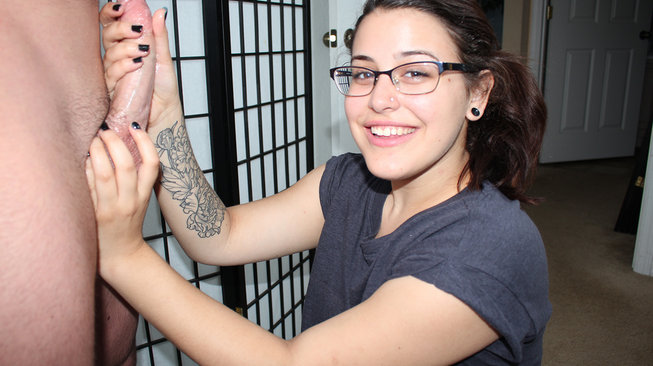 What Bella didn't know is that he had been several weeks without an orgasm and we all know what that means, the longer you wait, the more cum you get. This girl is about to get a complete cum bath and get blasted from one end of her to the other. I hope she brought a change of clothes, she's definitely going to be needing that. So she is going to be getting exactly what she came for and probably more. A huge cock and a huge load of hot cum all over her cute teen face. This is definitely about to be one for CumBlastCity.com.
Bella gets more excited the harder his cock gets because while she may not know much, she knows exactly what that means and she's more anxious with every growing moment.  This was caught on video, her hd video of this amateur teen handjob. With 9 minutes of cumshot video and 110 cum blast city pics, you get the full monty in this one. This girl will definitely hold a place in your little black book of sexy teen babes with glasses that loves taking on the big cocks and getting their cum all over her face. She is so cute and sweet and horny, how much better can you get it right?