When Mike finally decides to go and talk to someone about his sex problem he is VERY surprised to meet Therapist Vicky Vixxx! Vicky  is a well schooled Woman that really gives whatever it takes to help her patients. And for an older lady she still has it going on. Mike explains that he always has had a very active sex life but as of late he cannot cum. And that its embarrassing to him and to his girlfriend, and that she is afraid she just don't turn Mike on anymore.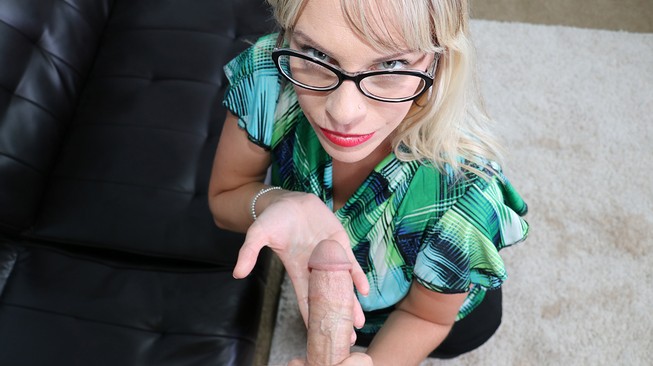 After some discussion about Mikes mental state of mind Vicky Vixxx decides to take matters into her own hand and see if a physical exam might give a clue to what's going on. At first glance she don't see any issues. She decides that with Mikes permission she needs to get "Mechanical" with it and pulls out the lube and goes to work. She is pleased that with very little stimulation Mike begins to get an erection. Asking him if this is normal for him he responds with "Yes". Vicky Vixxx loves doing pov handjobs to get them to cum, but she's in for a shock this time.
Vicky Vixxx soon finds Mikes cock growing much larger than she expected. As she continues to stroke it with each pass it grows firmer and longer in her hand. She LOVES big cocks and would love to slide this prime example of white snake into her pleasure hole but remains professional as she feels a dampness between her pretty long legs. Stroke after stroke as his cock continues to grow she finally has to pause for a moment to re gain her composure as she stares at his mammoth hole filler.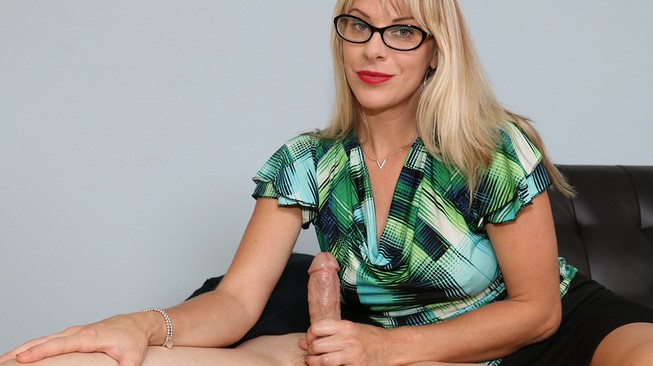 She then tells Mike she wants to try something. She gets on her knees on the floor and asks Mike to now stand in front of her. Sexy blonde Vicky Vixxx once again begins sliding her lube covered hand across his fully erect cock taking silent pleasure in each bump and vein as her hand delivers a steady stable pleasure for Mike. She decides to tell Mike how she feels… explaining that she is thinking how good his big cock would feel inside her now soaked pussy. How she rarely gets to enjoy or see a full sized piece of hard meat like Mike has as her hand picks up the pace. This full hi-def video can be found in CumblastCity.com right now, along with many others you can download.
Vicky Vixxx softly caresses his Balls with her other hand as she describes her now throbbing clit as her juices seep into her panties and her desire to have his cock pounding her pussy grows more and more. She tells him how tempted she is to have him slide his perfect penis into her wet mouth and in a single jerk Mikes cock explodes spewing LOADS of hot cum an Vicky's face! His lurching body expels shot after shot all over Vicky as she continues to stroke every drop out of Mikes freshly healed pleasure stick.
Mike tells her how amazing that was and thanks her for curing his problem. Vicky, still kneeling completely covered in hot jizz nods and smiles in her success. Then with a grin she says…"Now Mike, How about you help ME with MY problem".