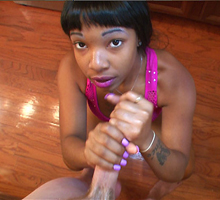 She couldn't believe that she was actually flirting with a white guy. It's so rare that she found herself alone and in the home of a white person. He was just so nice, and cute, she couldn't help but to flirt back. He obviously found her attractive, as he continued his advances. It didn't take very long for this ebony babe to find herself getting wet from the sexual tingles the flirting was giving her pussy. He was obviously excited too. One look at his pants was a giveaway to just how turned on he was. This white boy's cock was making an incredibly large outline in his jeans. She couldn't keep her eyes from staring at how big his cock was becoming. "Do you want to see it?" That question shocked her and brought her back to reality breaking her stare.
She wasn't quite sure what to say in response to his question and she stood there with a look of surprise and confusion on her face. That's when he took matters into his own hands and began unzipping his pants. Her ebony pussy began to get even more excited and even wetter as his hands were about to reach in and pull out his monster white cock. Then it happened, there it was, the huge white cock sprung free. She gasped at the size of his massive member but without realizing it, began reaching for it. He moved closer until his cock touched her hand. She grasped it, squeezed it tight, and began wanking him right there in the kitchen. She dropped to her knees in front of the big white cock and started giving it a handjob.
Her black hands gripped his white cock and began gliding over the length of his shaft. This is the biggest cock she's ever seen before and began using two hands just to make sure the handjob was pleasing him. Both hands squeezed, twisted, and wanked this enormous cock. He was moaning in pleasure and she was getting wetter with every stroke. She moved one hand to his huge balls and began gently playing with them while her main hand still jerked his dick. Watching closely she saw his cock thicken and his balls grow bigger. He was going to cum soon, she could tell. Almost afraid of what a massive load from this cock would look like, she continued anyway. Her pace was now furious, her grasp on the cock was tight, and she squeezed the base of his balls. An explosion erupted from his huge white member and a massive white load started dripping down her ebony hands. His cock just kept cumming and cumming, she never in her life saw a cock spew this much sperm!