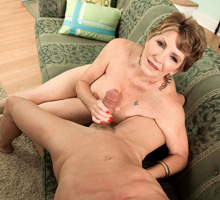 Some young men have all the luck! Remember when we were young, fantasizing about our teachers, our neighbors wife, our best friend's mom wrapping their hands around our cocks? Masturbating to those dreams seemed like a daily occurrence, but just never happened in real life. Maybe it was the lack of courage on our part, or the timing was never right, who knows. It's a disappointment that we have to live with. Well, that is until now!
A smoking hot new website has just hit the internet and specializes in exactly what we seek, MILF tugjobs. The site is amazing and is strictly MILFs and younger men engaged in passionate wank sessions. It's called MILFTugs.com and is filled with full length movies that are almost 20 minutes long. Each video has a MILF giving a handjob to a younger man and fulfilling his fantasy. All the MILFs are beautiful and natural; there aren't any plastic pornstars on this premiere website!
The site has been updating once a week with a brand new, full length hand job video between a new MILF and a young stud. This is all exclusive content only seen on MILFTugs.com. You can't find these videos anywhere else and that's the way it's going to stay. This site values their members and wants to give them the best experience for their money. Speaking of which, it's not even $20 for a full month's membership! Go check this site out right now and watch the sample videos they provide. You won't be disappointed!