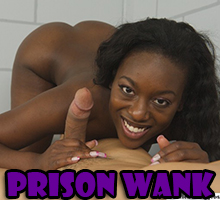 Already a seasoned jail cell inmate, the black babe made herself at home. She knew it wouldn't be until morning that her release would come from another public drunk and disorderly charge. This has become a weekend routine for the naughty girl. It wasn't routine for the white boy getting tossed into the cell with her. He was a preppy college student who has always been able to buy his way out of trouble with his parent's money. But, not this time. The drunken dude was put in the same cell with the drunken ebony woman and was actually afraid that she might hurt him.
The black babe's eyes did light up when she saw the white meat enter the cell. She had plans for him, but it didn't involve violence. It would be of a sexual nature. She was going to break this conservative white boy in with what she does best – hot handjobs! "Ever have a black hand around your little white cock before?" She asked of the white boy who seemed almost too terrified to answer. "Don't' worry; I'm going to make this night pass by quickly for the both of us!"
That's when the black woman approached the scared white boy and started rubbing his crotch through the outside of his jeans. He was still scared, but his cock still responded to her touch. She rubbed until he had a visible erection in his pants and then she began to unbuckle and unzip his jeans. She dropped to the floor and took his pants with her. Kneeling in front of him, her black hand wrapped its fingers around his white shaft and began stroking the boy. He finally relaxed and let this black honey give a handjob to his white dick.
She pushed him onto the jail cell cot and he laid back. Climbing on top, the ebony vixen straddled his white legs and continued stroking his hard white penis. There was something about the handjob that was extremely hot to the boy. Was it the fact that they were in jail, or this is the first time he's ever been touched by a black woman, or was it simply a damn good handjob?
If you would like to see the full set of pictures that goes with this story and the full length video, visit GirlfriendHandjobs.com now!