Don't let the hijab fool you because Arab babe and massage therapist Jericha Jem just got her massage certification. She knows how to give a sensual massage and it looks like her very first client tried to pull a fast one because he ends up getting tied down and bound to a table and forced to cum on her command from her sensual stroke. Sporting a blue hijab this Arab babe is one you dont want to fuck with. Mike finds out the hard way when he tried to feel her up and get a happy ending handjob. Unaware to him Jericah Jem know how to punish her men into submission by teasing the fuck out of them and bringing them to the edge, only to bring them right back.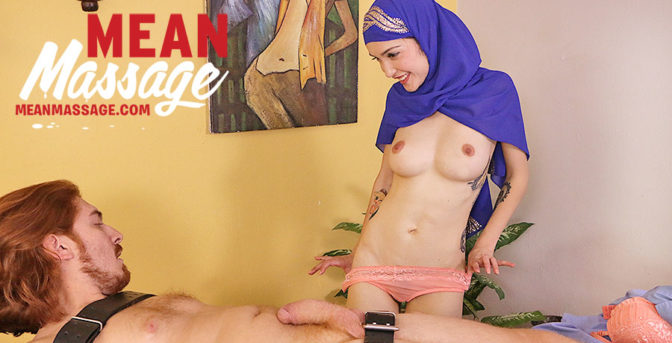 Mike gets his sensitive tip tweaked, his balls become tense and his cock throbs harder and harder. The moment the petite Indian babe exposes her tight body and takes off her pants, Mike cant contain himself and almost spurts his warm semen right then and there. He was a little embarrassed that he went so fast, but it was her fault for being so damn hot and sexy, her habib draping on her white shoulders, GOD she was hot!!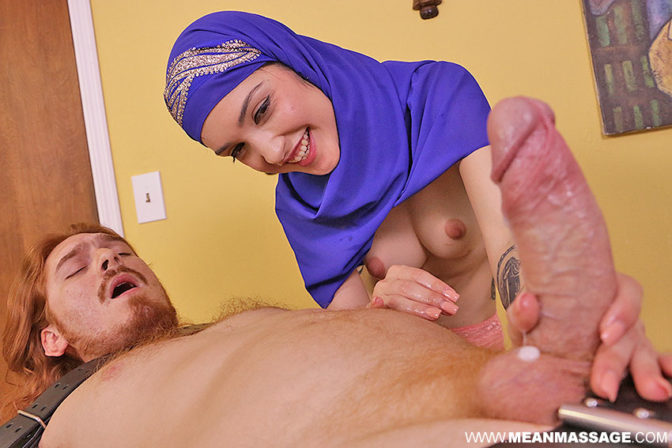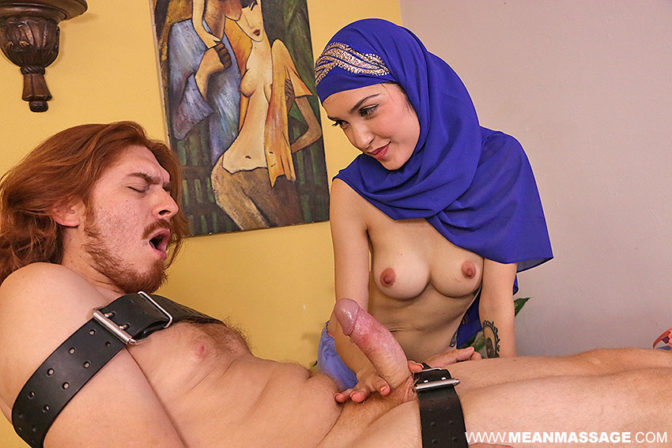 Jericha strips down and massages his hard shaft. She seems to know all is sweet spots and bring him close to the brink of orgasm. She slaps and hits his hard cock and the poor guy keels over in great pain. He is told to cum on her command, then and only then will he get his much anticipated orgasm. But this hijab wearing porn babe is cruel, and just as his body trembles and his cock spurts his salty semen, the cruel babe ruins it for him in a big way! Jericha scolds the poor sap and tells him to clean himself off. Check out some preview pics of Jericha Jem!