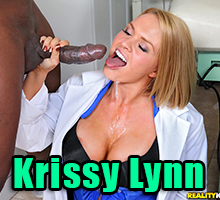 Krissy Lynn is a very sexy blonde babe with big breasts and a love for black cock. Krissy is a nurse who has recruited two nursing students to help her today. All 3 babes are dressed in blue scrubs with only Krissy wearing the white nursing coat. They are preparing for the two black patients they have waiting who've injured themselves playing basketball. These guys are huge and will require all 3 ladies to give them the help that they need.
The first black man enters the doctor's office and is instructed to lie down on the table. He's only wearing a yellow mesh gown that doesn't hide any part of his body, including his big black cock. Krissy Lynn and her two student nurses can't help but to stare at this basketball player's massive shaft. He's not even erect and must be 6 inches long already! All 3 women were getting wet underneath their nursing uniforms.
The other black basketball player entered the room and showed off an equally large penis under his see-through gown. Krissy Lynn had a naughty idea just then on how to break in these nursing students to the real world of medicine. She ordered them to bend over the table and instructed the black men to pull down their scrubs and fuck their tiny white pussies. Even though they were injured, the black men weren't going to pass up an opportunity for young white meat! They hobbled behind the fully clothed nurses, yanked down their pants, and rammed their large cocks deep into the nursing students' pussies.
Krissy Lynn could only stand back and watch for a short period of time before her pussy tingled intensely and wanted a big black cock of its own. She lay back on the table, spread her legs so that her skirt rode up to her hips, and had the black man pull her satin panties to the side and insert his thick dick! All 3 nurses were now taking turns getting cock, sucking cock, giving handjobs, and having orgasms on the examination table.
Check out the entire gallery that goes with this story, and the full length video, at CFNM Secret!
Join CFNMSecret.com Today For More Clothed Handjobs!