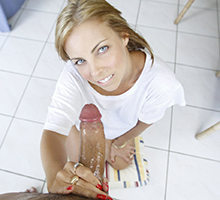 Krystal Banks is a beautiful blonde teen with a petite frame and small sexy breasts. She's never had to rely on anything but her looks to get what she wants. But, she decided to take a job cleaning her neighbor's house while he's away on business. She of course blew off the job completely, left the house a mess, and is now trying to smile her way out of giving the money back she got for the job. For the first time ever, her smile wasn't enough to win over the older man whose house she neglected. Krystal then sweetened the deal, "I'll give you a handjob if you let me keep the money." The man was floored by the sexy teen's offer, but instantly excited and accepted.
Krystal Banks giggled with the excitement of getting her way once again. She's given handjobs before and actually enjoys them. Plus, she's sexually turned on by older men. This was going to be easy money and a huge turn on for the teen babe. Not wanting to waste any time and possibly have the older neighbor change his mind, Krystal immediately dropped to her knees and began massaging the man's cock through his pants. He almost jumped backward from the shock and excitement of having a gorgeous teen girl touch his cock, but kept his cool. She worked his cock from inside his pants like a pro and he was soon rock hard.
That's when Krystal Banks undid his belt, unzipped his pants, and took out his rigid cock into her bare hands. She was impressed by his size and how hard his cock was. Her soft teen hands stroked his dick from the head to the base and back again. She even used her other petite hand to cup and fondle the man's balls. He was in absolute heaven and she was getting her teen pussy wet and excited from this taboo situation with the older neighbor. She stroked him harder and kept squeezing her soft hands tighter around his cock. Krystal even gave the head of his cock tiny kisses during the handjob. The older man was ready to explode and warned Krystal, but she stayed on her knees and kept staring at the cock. "Cum on my hands and all over me!" Krystal told the older man. That was it; he lost it and exploded all over Krystal. Her hands, her face, and even her breasts were covered with the man's cum!