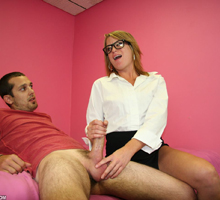 Sexy teen Kylie Monroe invited her boyfriend over to have some fun. She's been going further sexually with him and decided it's time to please him for the first time. Kylie was very excited to give her first handjob and have it be with the guy she loves. As they both sat on the bed in her bedroom and flirted with one another, she reached over and began running her hand up and down his inner thigh. Out of the corner of her eye she could see the erection growing in his pants and decided to just go for it. She reached out her hand and placed it directly on his hard cock.
He was surprised at her bold move, but obviously very happy that they were finally going somewhere sexually in their relationship. Even more shocking is when Kylie started to undo his pants and took his cock out. As if her hands knew exactly what to do from instinct, she began squeezing his cock and jerking it up and down. Kylie felt her boyfriend's cock grow thicker in her hands and was impressed by its size. Her boyfriend wasn't the only one excited over the handjob, Kylie's nipples were so hard she had to remove her shirt and her bra. Her small teen tits were now bare and her nipples stood straight out.
Wanting a better view and position, Kylie kneeled down in front of her boyfriend and really began wanking his cock. Her stroke increased pace as she began to quickly move her hand from the head of his cock to his balls. He was in complete ecstasy and this was the best handjob he's ever received in his life. It was so amazing that he tried to hold back cumming, but that wasn't going to last long. Kylie could feel his cock begin to throb in her hand but had no idea what it meant. She felt a little cum release from his penis and used it lubricate his cock and move her hand faster down its shaft. Then, it started to grow and spasm. She wondered if she was doing something wrong or hurting it when an eruption occurred. Her boyfriend's cock shot load after load of cum onto her face and chest even though she tried to block it with her hands. Kylie was drenched from head to toe in her boyfriend's cum.