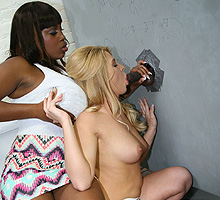 There are two things that get Lexi Kartel all moist in between her slender thighs – getting bossed around and big cocks. In this latest update from Gloryhole.com, the gorgeous blonde babe gets bossed around by Maserati , her busty black friend while she sucks on a stranger's gigantic black cock poking through a wall at the local gloryhole and she couldn't be any happier about the situation.
The two friends are walking along minding their own business when Maserati shoves Lexi Kartel into a public toilet that's known around town for all the filthy but steamy sexual acts that happen in there. Lexi is a very small girl compared to her thick black friend so she follows all the instructions given to her and she doesn't put up a fight when Maserati strips off her white top exposing her full perky tits. The two ladies then patiently wait to be approached by a man wanting to get his dick sucked and drained and lucky for them, they don't have to wait for so long because a big black dick pokes through the wall and the sexy orally fixated blonde immediately squats down and gets to work swallowing that big dick as far back as she can.
Maserati cheers the petite cock sucking nympho on and even snaps pictures of her friend deep throating the chocolate dong before using her hands to guide Lexi's head up and down the long black cock. As if servicing one huge penis isn't enough, another equally monster black cock pops through a second hole and the slutty Lexi alternates between sucking both cocks before eventually bending over and taking the cocks bare back into her dripping wet snatch.