Michelle Martinez is a Latina Massage Therapist and she is one of the better ones, but she does not like it when her clients come in and tell her what to do, that isn't how it is done on her table and everyone knows it. John came in and he wanted a happy ending in the worst kind of way but this girl wasn't having any part of that at all. She has full control at all times when they are in with her, and John is about to find all of this out. She grabs his cock in hand and starts teasing the hell out of his cock head with her Latin teen hands.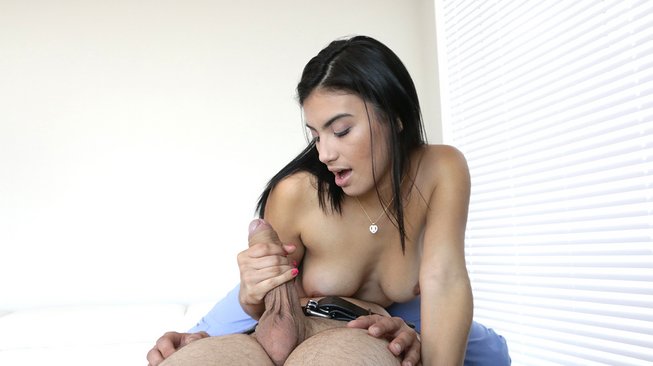 She gets his cock totally hard and can feel him squirm under her hands as she gets on top of him and sits on his chest where her ass is almost on his face. She has her pants on but he can feel the heat from her pussy on his chest and it makes his dick even harder. Her tits are rubbing on his belly and she knows what she is doing to him, but he is not going to come in her room on her table and tell her how to do what she does better than just about anyone. She is a fetish handjob teen and she knows what to do and how to do it.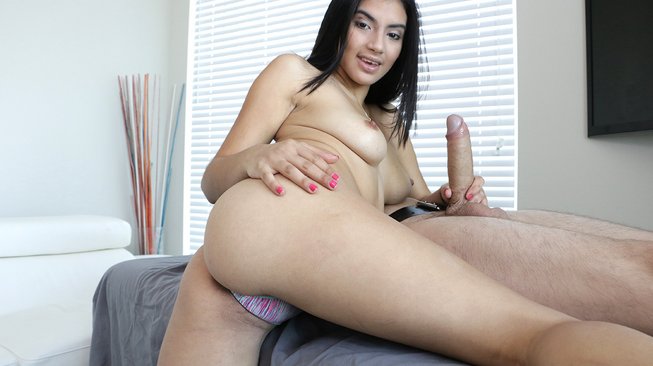 Michelle Martinez teases his cock even more by stripping down to just her panties and still having her teen titties on his chest and belly, she knows she is about to get him and she almost feels sorry for him, but he's going to be in for a shock when he cums. He starts feeling his cock pulsing as he knows that he is going to erupt at anytime and he's going to get that happy ending afterall. Nope, Michelle Martinez ruins his orgasm and he is completely denied his happy ending he was so hoping for. Watch Michelle Martinez and all the other bitches in Meanmassage.com where they are in total control of all the cocks and they don't let these cocks do anything until they say so.