So Jade Jantzen, have you ever seen any of her videos of her cock massage sessions? If not then you are in for a real treat, this girl is something else and can really make a guy rock hard in just a matter of minutes and as long as you stay on her good side, then there isn't anything to worry about. But let me tell you, I've watched these videos and I can say this, if you go in and lay down on her table and consider making demands on what you want, it is going to go sideways very fast. Just ask this guy here, watch what happened to him!
John came into the room and was hoping and praying for his cock to get milked by a sexy babe with a hot body, but what he wasn't aware of is the number one rule for Jade Jantzen, you never ever, and I do mean never, make demands on her, that is the single worst mistake you can possibly make. He got on the table after she handed him his towels and wasn't even aware what was about to happen, things looked and seemed normal to him. But when he got on the table and wearing nothing but a couple of towels, that is when things got weird, and he realized he was in for a mean massage!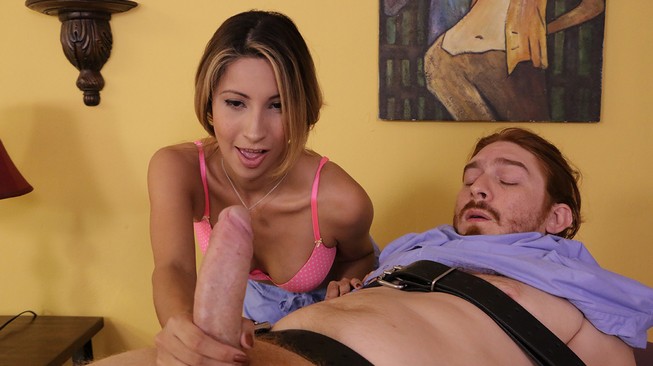 Jade Jantzen got out the ropes and tied him down, and of course he was into it, he thought it was going to be a kinky massage, but as she was tying him up and it was getting tighter and tighter and rendered him immobile, he knew something wasn't going right at all. She was about to give him a massage alright, a mean massage, one he isn't going to forget and hopefully never come in making demands on her again. She may be cute and sexy, but she has a mean streak in her. She started milking his cock and was being so rough and humiliating about it that he was not so much into it anymore. But in the end, after she completely ruined orgasm, he actually kind of liked it and would be coming back to get another session of her dick abuse.