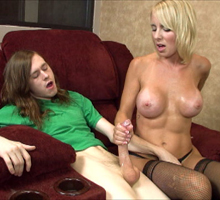 Hot blonde, over 40 babe Sierra Luv has been dating a man for about 3 months now. She's been getting closer to him and his son. The son seems infatuated with Sierra and she finds it adorable. She often thinks to herself, it's so cute that this young man checks her out whenever he can. Today, Sierra was joining the young man on the couch watching some TV when she noticed his eyes weren't directed toward the television any longer. He had his eyes glued to her tight and low cut top which showed off a massive amount of cleavage. She giggled to herself and decided to have some fun with her boyfriend's son.
She moved closer to him on the couch so that their legs were touching. Then, she leaned over when she talked to him pressing her big breasts into his shoulder. She even pretended to reach for a dusty spot on the wall behind them, kneeling on the couch while leaning and smashing her bare cleavage into the young man's face. Unexpectedly, the young man grabbed her ass with both hands and buried his face even deeper into her cleavage. "Oh my God!" Sierra thought to herself. She didn't do anything to stop him though. In fact, her pussy was extremely wet over this taboo moment she was having. "I can't fuck him, this can't go that far!" Sierra said to herself. "I'll just give him a handjob to calm him down; there is no harm in that."
Sierra Luv wrestled her way out of the young man's grip and sat next to him. She told him, "You can't tell anyone about this!" He agreed and watched Sierra remove her top exposing her lovely big breasts. She ran her hands over the young man's cock in his pants and unzipped his zipper. Her jaw dropped when she took out his cock. It was so big, even bigger than his dads! She stroked the length of his shaft, admiring every inch as her hand glided to the base. His cock was nice and thick too. She wondered how it would feel in her pussy, but quickly dismissed that thought again. Sierra squeezed the young man's cock and began twisting as her strokes became steady. He was moaning and loving every moment. Sierra tugged on his cock with one hand and tugged her skirt down off her legs with the other. What was she thinking?