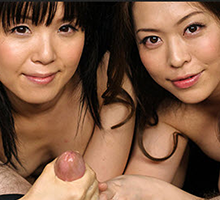 Mint Asakura and Sena Sakura are two beautiful young Japanese women. They are both petite, have long black silky hair, and have perky breasts. Their skin is creamy and flawless. Just a touch from the hand of a Japanese woman is enough to send shivers up your spine. Their touch is like running silk fabric gently over your skin.
The two Asian beauties come as a package deal with the massage you've purchased today. After thoroughly satisfying the muscles of your body with four hands massaging and rubbing, it's time for the ending. This is what they call a happy ending, but with two Japanese babes it should be renamed to an amazing ending! You're instructed to sit back in your chair as the two women spread your legs and slide their naked bodies in between.
They look up at you while smiling and running their hands over your thighs and your crotch. It's their job to tease you first and they are doing a fine job at it. Two naked Japanese women running all four of their hands over your crotch is enough to make you cum in your briefs. But, you hold out for the good part sure to come very soon. Mint Asakura and Sena Sakura can see in your eyes that you are close to cumming already and they smile wickedly at you. That's when they pull your briefs down your legs and leave you sitting there completely naked.
The Japanese girls now start to stroke your hard cock with their soft petite hands. Four smooth Japanese hands are massaging your cock at the same time and the feeling is nothing short of ecstasy. They switch on and off from jerking your cock, to massaging your balls, and then trying to fit all four hands on your dick at the same time. The pleasure is extreme and you still fight to hold back cumming. You very much want this to last longer and enjoy the moment more. But, it's of no use. No matter how much you fight you can't last any longer and begin cumming all over the Japanese hands that are now massaging your cum back into your cock. This was the happiest of happy endings you've ever received!
View Two Japanese Girls Giving A Handjob Video