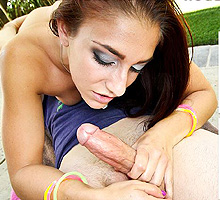 Mischa likes to spice things up when it comes to sex and this latest handjob video from TugJobs.com is proof of how creative she can be when she's in the right mood. The gorgeous babe manages to find a way to incorporate glow bracelets into her handjob-giving session and the result will leave you both amazed and turned on.
It takes a very special kind of girl to balance giving a handjob with playing with glow bracelets but Mischa was born to do that shit, in fact it all comes naturally to her. She kicks off the fun without the glowing accessories as she takes off her pants to show off her shapely ass and trimmed pussy. She then puts her clothes back on and moves indoor where she gets on her knees so she can play with the big dong being thrust into her face. The brunette cutie lubes it up real good and then slides glow bracelets down the length of the shaft while putting some around her own hands. There is no need for a cock ring here since the glowing circles around the big erect dick get the job done right.
Mischa smiles with satisfaction as she strokes the monster cock. Her hands twist and turn around the length of the shaft and she looks directly into the camera as the pace of her stroking increases. The sexy babe with small perky tits splits the very colorful bracelets into two and uses them in conjunction with her own hands to drive her lover insane with ecstasy. The combination of the sensational handjob and the cooling feeling from the bracelets is enough to make the lucky man shoot out his creamy load.