Amber Rose is the boss and every now and then, there are good perks for the guys with big cocks, no one ever seems to complain. She  uses his cum to keep her young skin since we all know it is good for your skin, right? He runs into her office eagerly and never waivers from her requests simple because he knows that if he declines then someone else is going to take her up on it. She gets her monthly supply of cum for her skin and he has fun knowing he is getting his cock worked by his boss. I wonder if he gets special treatment in other areas… but do we care?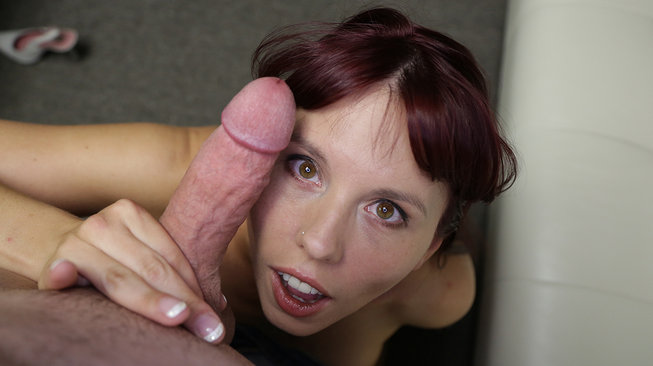 Now that she has him naked, she intends to have her way with Joe's cock and, she's made him the token cum supplier and he has a job to do. His cock is instantly hard before she even touches him because he was waiting for this, he hasn't had a cumshot since last month so he was very horny and very much waiting on this milf handjob. Amber Chase is built like a woman in her 20s, no wrinkled tits, no worn out pussy. This over40handjob is one for the books simply because I guarantee that if you hadn't been told, you'd never know she was over 40. She is a great looking redheaded milf with big titties and loves handjobs.
Look at that body, do you believe me now? She isn't no stick figure barbie doll, she's a full figured but not fat milf. Her tits are huge and fake, but who the hell cares, right? She's taking great care of her body and using Joe's cum helps a great deal on that as well. Get full access to Over40Handjobs.com where there are a lot of older milfs that are all shapes and sizes. Older pornstars, Grannys and much more, all over 40 so you have a fetish? Here is where you go!!