If your name is Christina Skye, there is never a dull moment in your world. She has been horny for a good little while now and her friend sent her a big cock, just hearing that news made her horny as hell and she was excited. What walked into her door was nothing less than a complete shock. The only thing visible on him was his great big cock and balls. She had thought she had seen it all but this one takes the prize for bizarre. But, to her friend's defense, she did indeed send her a great big cock, so let's play the game, right?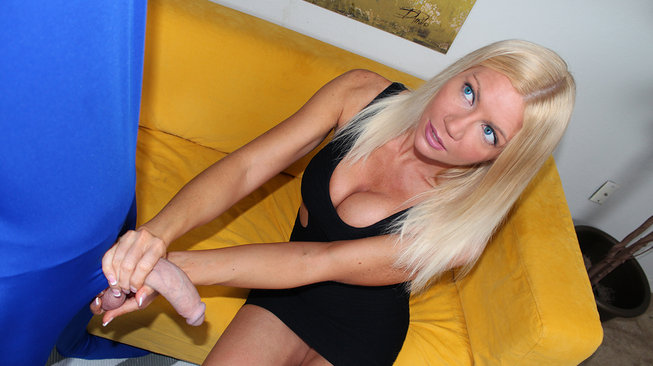 Christina Skye looks up at him with some skepticism at first while she grabs his cock in one hand and his balls in the other, her bright blue eyes glaring at him all the while. This busty blonde milf may love cocks but weird is just weird no matter what package it comes in. This is just strange and uncommon. But once she feels his big cock start to grow in her hands, she starts getting a little more horny and a little less confused about her friend's gift. She has heard of blue balls before but this is a full blue man! Over40handjobs is a place where you just never know what these crazy milfs are going to do!
With her great big tits out and his cock growing under her care, she soon forgot all about the blue suit and started getting into the fact that she did indeed land a big cock. Christina Skye loves cock, and apparently it doesn't matter how they come to her, she wants to milk them dry of all of the sweet feeling jizz that they hold, leaving not even a drop in his swollen cock and balls. Christi9na Skye is such a horny housewife that she just didn't care anymore, she had a cock in her hand and a wet warm pussy and that's all that mattered, she just wanted to play with this cock, and besides, no strings on this one, right? She didn't even know who he was. Check out over40handjobs.com now for all of the horny housewives we can find, all real. They prove that you are never too old to enjoy cock.