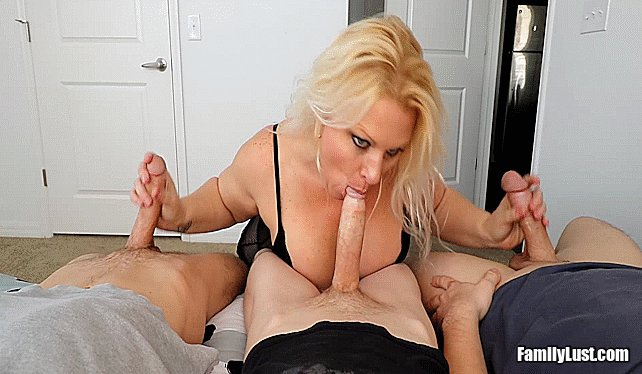 There are lots of ways to celebrate a birthday. One might throw a party and open presents. but if your hot Step Mom Selah Rain from FamiyLust , you prefer to have 3 hung step sons jam their dicks into every orifice! When her hubby decided to forget that today was her birthday you do the best next thing, convince your three step sons to fuck. And believe me these dudes are great whites. Each packing 8 inches or more in this hot step mom scene.

Selah is really stoked about her bday, hell she even had the place decorated, but when the husband says he forgot and is at work, Selah coaxed the boys to pull out their cocks so she can play with them. She gives all three a blowjob, kinda hard to do but Selah sucks them off in tandem like a true blowjob queen that she is. When things get heated she gets naked and lets then jam their cocks in her. Her as gets anal, fucked deeply, her pussy got jammed up by Joeys big boner, and her mouth seems to be always filled with Conors monster dick.
Either way, all holes get filled and eventually creamed. Its definitely a great birthday for this taboo family. They dont call it family lust for nothing. To check out more of the video, hop on over to Family Lust and press play!