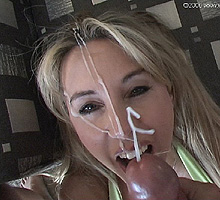 There are three things you need to know about Wifey. She's a blonde, she's got massive mammaries and she loves to get facials. She generally loves sex a lot – much to the delight of her husband but she has a facial fetish and you can see her cute face getting plastered with semen in this sizzling hot episode from WifeysWorld.com

When it comes to amateur MILFs, Wifey is a favorite around here because she is a nympho. Plus having a massive rack puts her way above all the other MILFs on the internet but back to that part about being a nympho. This gorgeous blonde enjoys being naked out in public so it comes as no surprise when she frees her gigantic tits from her green dress exposing her big nipples to the direct sunlight while her husband watches nearby. He, ofcourse gets turned on by the sight of his beautiful wife's bare huge tits and the always adorable Wifey decides to suck his cock to relive the bulging boner. The sexy blonde cock sucker gets on her knees and wraps her mouth around her husband's pulsating head while gently cradling the rest of the cock in her hands.
Wifey then starts pleasuring her hubby with her mouth, swallowing his big dick deep into her mouth before spitting it out. He grabs the top of her head and guides her up and down his rod, controlling the rhythm of her sucking and when he is ready to burst a nut, the cum loving blonde MILF tilts up her face and opens her mouth wide so he can make his cum deposit not just in her mouth but all over her beautiful face as well. If you thought Wifey looked good with just a little bit of makeup on, wait until you see how amazing she looks with thick goo splashed all over her face!