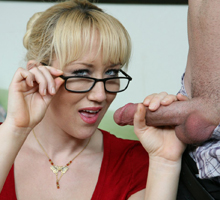 Alana Evans is a sexy blonde MILF who never gets tired of satisfying younger men with her amazing handjob skills. She was just thinking to herself how long it's been since she wrapped her petite hands around a hard cock when the doorbell rang. It was her daughter's boyfriend who wasn't aware that Alana was home alone and her daughter had to work overtime. Alana knew she had at least 2 hours before her daughter came home and invited the young man in and sat him down on the couch. This was going to be Alana's lucky day!
Wasting no time at all this hot MILF started rubbing her hands up and down the young man's thigh and over a penis that seemed to be getting larger by the second. He tried to resist at first, but it was no use. His cock was in the skilled hands of an experienced mom and he was about to get a MILF handjob that he would never forget. It was time to show this younger guy what a MILF's hands are capable of doing.
Alana unzipped the younger guy's pants and took his cock out of his boxer shorts. It was already hard and pulsing against her fingers that gripped his thick tool. Alana was glad she decided not to wear panties that day as the juices from her pussy started dripping down her legs. She was getting off just as much as he was. Alana worked his young cock quickly, stroking her firm grip up and down his shaft. She spit on the head of his cock and twisted her sweet hands massaging and lubricating his penis. The young cock in her hands started swelling and his balls became larger. Alana knew he was about to cum and she was about to explode into an orgasm as well. She furiously dry humped his legs while jerking his member as fast as she could and was ready for what was about to come!