Alice Chambers married Luke's father with high hopes of LOTS of sex EVERDAY! But soon after the marriage to this older man she realized that his business trips were getting in the way of her sex life. She thought his adult son was attractive but never considered him in a sexual way. That is until her horniness finally got the best of her.
She began by popping in to Luke's room scantily clad in just a matching Bra and panties set. Luke's acknowledgement of her sexiness was evident in the hard cock that had swollen and escaped his underwear. Alice pointed it out and Luke tried to cover it in embarrassment but when he looked back up Alice was taking off her top exposing her big full breasts. She then flipped around and shed her panties exposing her pussy telling him "there… I seen yours and now you seen mine… we are even"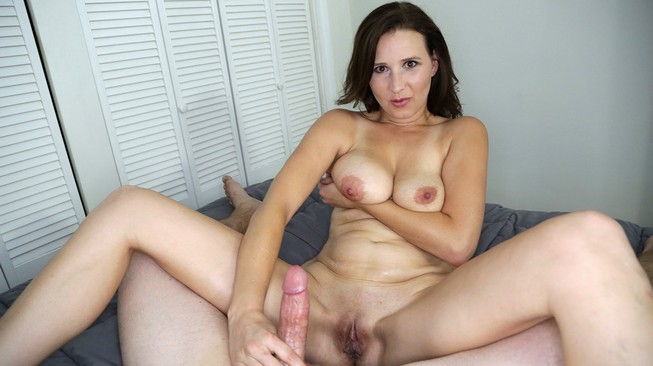 Alice Chambers then tugged Luke's underwear off leaving him on his back completely naked. She then grabs his cock and says… "Your just like your Father" and begins to stroke it. She blows on it as her hand squeezes tightly and picks up pace. Luke nods in response to her prodding of "do you like"? He asks "are we going to"… she cuts him off with a firm "NO". I belong to your father… I am just having some fun here.

Luke asks if he can see her pussy again… she happily obliges by repositioning herself exposing her pretty gaping hole for Luke to see. Her heavy white breasts swaying as her stokes became more tender and pleasing. She smiles and says "We can do this a LOT if you want to" Luke says "HELL YES" in excitement.
Luke's breathing began to get shallow and faster and Alice Chambers KNEW he was going to cum soon. She made him stand and said "its ok if you cum on my face" She couldn't help herself and as she stroked his cock she gently lap her tongue on the tip tasting his slick precum as it continued to ease out of his trembling pecker. His ass tightened as the first burst of cum passed completely over Alice's head. The second burst was a direct hit into her eye causing her to jerk and laugh. His cock quickly drained on her face as she sneaked an occasional taste.

This has become a normal ritual with Alice and Luke. While Daddy's away EVERYONE will play!