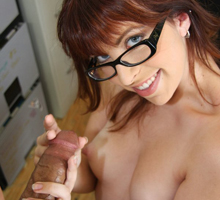 Alice White loved her work as a secretary for a successful law firm. Not only was she paid well, but she had the luxury of being around attractive young lawyers all day long. She was always such a flirt, and they all loved it. Alice wanted to feel the cock of every lawyer in the firm. It wasn't just teasing and flirting, she really wanted their cocks. Determined to give her boss, a lawyer in his thirties a handjob, Alice cornered him in the filing room.
She flirted with the young lawyer and he flirted back, but she knew that it was her who would have to make the first move. Alice pulled her dress over her head and displayed her bare tits and panties to the man. There was no denying this was just flirting any longer. The lawyer instantly had a tent in his pants and Alice knew that she had him. She reached out and undid his belt letting his slacks fall to the floor. He wore just boxers and there was an outline of a nice thick cock waiting underneath. Alice grabbed his cock through his boxers and took it into her grasp. She stroked it, squeezed it, and finally popped it out the top of the boxers that still held it against his body.
The lawyer pulled away quickly and locked the door to the filing room. Now, things were going to get interesting. He came up to Alice and pushed her head down so that she would kneel in front of him. Alice was on her knees and took his bare cock into both hands and gently massaged his shaft. She played with his balls and squeezed the head of his cock in her hand. He was rock hard and Alice knew they didn't have too much time. She quickly started jerking him off with short and fast strokes. She squeezed his shaft tightly and pulled, yanking his dick up and down with a determined and fierce pace. The young lawyer let out moan after moan and she knew he was going to cum.
Preparing for the explosion, Alice brought her face near the head of his dick. She wanted to feel his hot sperm all over her cheeks and chin. "Cum on my face baby," she softly suggested to the man. That was all he needed. Load after load shot from his cock onto Alice's face. It was hot and thick and she loved the taste, yum!