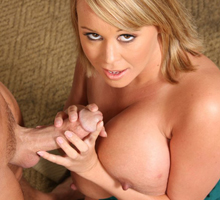 Brandy Talore has been waiting for you to get home and has a surprise for you. She's been thinking about your cock and how good it will feel to take it into her small hands and stroke it up and down. The thoughts have made her so hot, and so wet, that she decides to give you a little striptease before she starts to wank your big dick. She slowly moves her body to the music playing in the background. Brandy takes off her shirt and shows you her big tits barely contained by the bra she's wearing. She continues moving her body to the music as she pulls down the thong she's wearing under her short skirt. Your pants begin to tent with the hard cock you have pressing against them as Brandy takes off the last articles of clothing exposing her hot body and massive tits to your eyes. Now, it's time for your surprise!
Brandy gets on her knees in front of you, completely naked, and takes your cock into her hands. She knows how bad you've wanted to cum on her tits, but she's never let you. Today is the day; she wants you to cum all over her big natural tits and is going to give you the best handjob of your life! She squeezes your cock with both of her hands and strokes you up and down with her tight grip. She tickles the head of your cock with her fingernails and cups your balls rubbing them against each other. Brandy is working your cock in her hands from the tip of your dick to the bottom of your balls. She's a master at giving a good wank and your cock pulses in her hand. She even pulls your cock to her chest squeezing it between her massive tits.
In shock, you can't believe she's letting you fuck her tits. Brandy wants you to cum all over her big naturals and returns your cock to her tight grip. She uses your precum as lube to speed her pace. Rubbing faster and squeezing harder she knows you're about to cum. She starts milking your thick shaft toward her huge breasts in anticipation of your hot load. "Cum all over my big tits," Brandy says to you looking up from her knees. Then, it happens; you erupt and start spewing cum all over her huge boobs. Brandy moans with pleasure as she feels your hot sperm splatter against her chest. She keeps milking your cock in hopes of covering her entire massive set of tits in your hot cum!