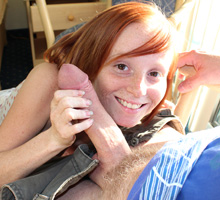 Appearances can be deceptive and that has never been truer than in the case of Alyssa Hart. This teen babe is small and seemingly sweet and innocent but she is one of the most well-known sluts on the web today. She also appears really weak but in reality, she is one strong chick. Don't take my word for it though, check out the way she grips and jerks Mr. Johnson's gigantic cock in this update from TeenTugs.com. Spoiler alert – Alyssa Hart wins this battle hands down.
The scene kicks off with some petty small talk between Alyssa Hart and the much older man. He gropes her tight ass through her jean shorts and squeezes it as he convinces her to get on her knees and get him off with her hands. She doesn't need much convincing though especially when he tells her she won't get pregnant from a handjob. The petite redhead immediately gets on her knees and starts stroking Mr.Johnson's big cock. She takes it from limp to hard in no time at all and the perverted man showers her with praises for her amazing work. Little does he know that this is just the beginning and Alyssa Hart hasn't reached her peak yet.
She takes off her blouse to reveal a set of perky tits unrestrained by a bra. She then proceeds to rub the gigantic cock before her in between her tits before wrapping both her hands around it and stroking it fast and hard. Mr. Johnson tries really hard not to burst a nut because he wants to prolong the fantastic handjob for as long as he can but Alyssa Hart's cock tugging skills are simply too mind blowing and a few strong strokes from her is all it takes to make him explode all over himself.