Hi, I am Kylie Page, I want to tell you about this time my boyfriend brought his buddy over and we had some surprise fun. Tom (my boyfriend) is a musician. He plays guitar in a band that does mostly local shows but on occasion they travel for a weekend gig. Well for years he has been bugging me to do a threesome with my best friend Crissy. I was like "But what do I get in return"? He said "Great sex with Crissy". I would always tell him I wanted something for ME and then I would think about it.
Shaun was the bass player in Toms band. I had known him since high school. We had been both friends and enemies on and off for years. He wasn't a bad looking guy. maybe an 8 or a 7… But not the kind of guy I was really attracted to. But he did have game. ALL the ladies loved his smooth talk and bad boy image. He was tall and skinny and did look good in his jeans. Tom would tell stories of how Shaun would bring women back to the room night after night and fuck till the wee hours of the morning.I must admit THAT sounded fun!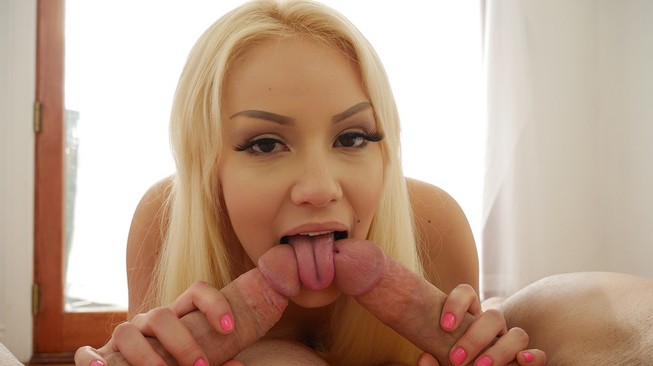 Well one evening after band practice Tom and Shaun came home to chat and relax and have a few beers. I was doing housework as they started brainstorming so I told them I would have to work around them, They didn't mind and plus they figured they got a waitress included for the trouble of having me around. At one point Tom poked Shaun and said to me "So baby, have you talked to Crissy about that threesome yet"? then, just as he started to giggle I promptly fired back, "No, Have you talked to Shaun about it"? Shaun fired back "Yes he did… I am ready whenever you are". Boy was I red faced… But rather than admit that was NOT what I meant I just rolled with it to save face.
I came back into the room walking sassy thinking I was going to call Shaun's bluff and that Tom would definitely have my back. I said, "Well I am not in the mood to fuck today because I have been working BUT, I will suck your dicks but ONLY at the same time. I just KNEW this would put an end to the smug smart ass smiles on their faces. Boy was I ever shocked when NEITHER of them backed down… Tom said I am good with that and Shaun said "lets do it". I said "well then… whip them out if you got the balls. And they both stood and dropped their pants.

Shaun said "I want to cum on those titties… I have thought about doing that for years"! They both sat back down beside one another smiling. Tom said"she won't do it, she is the one that dont have the balls". At that moment I pulled off my shirt and told Tom " you should know better than to second guess what I will do". and down to my knees I went taking Shaun's cock in my hand and squeezing it between my tits. I said "These are the titties you dream about"? And Shaun excitedly exclaimed "HELL YEAH".
I took a cock in each hand glancing back and fourth between the two band mates. I then decided to slide Shaun's cock into my mouth first while looking Tom in his stunned but turned on face. Both dicks were fully erect now in my ever stroking hands. I swapped between the two as their shocked banter turned into soft moans of pleasure. Tom was so turned on every time I would pay attention to his friends cock. After swapping back and fourth for a bit I tilted them together in the middle and gave them both a joint licking which REALLY seemed to excite them both.
They both stood and placed the tips of their throbbing meat rods together easily at my mouth. I began sucking them both at the same time. Their heads tilted back at the same time while jointly releasing the same loud moans of pleasure. I feverishly twisted my tongue around each cock as they both began probing my mouth first together then one after the other relentlessly pounding my face. Their wet cocks were slipping in each of my hands building speed and heat as my cock hungry mouth swapped between the two for what seemed like forever.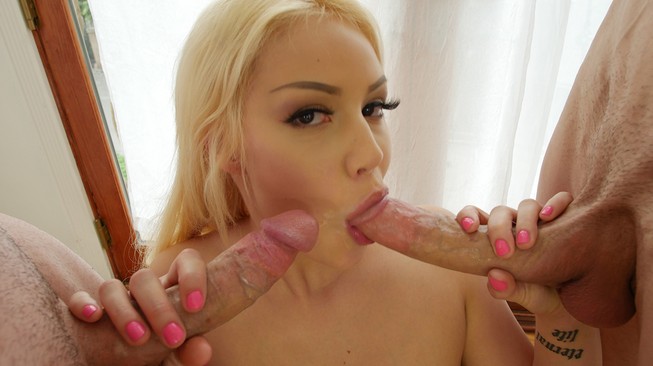 I Told Shaun in a brief break from sucking either that his wish of cumming on my tits was about to come true. This excited them both. I continued my double stroking both cocks but turned my mouths attention to Shaun as Tom looks on. I started swirling my tongue around the tip and then lapping up and down his heated missile prompting several moans and groans as his cock began spraying its contents into the air I thrust my head backwards catching his hot loads on my tits as he wished, His body jerked as the cum spray slowly turned into drops.
Toms attention starved cock was soon inside my mouth oozing pre-cum and flailing about with no control. I grasped it firmly and began letting him fuck my mouth the way I knew he loved to. I held his best friends dripping cock in one hand and his in the other as he fucked my mouth harder and harder while the fresh cum on my tits began dripping onto my lap. Tom started cumming in my mouth in a huge burst as he stiffened his entire body. He pulled it out and started shooting the remainder on my face and neck. I stroked and kissed both cocks as the slowly softened in my hands like deflating balloons.
I told Tom "well I guess you get your threesome with Crissy". He smiled and said "That can wait, We are going to do THIS again and this time YOU are getting all the attention from BOTH of us"! Now THAT'S what I am talking about!