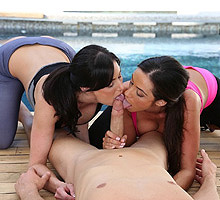 When it comes to CFNM porn, you know you can count on the curvaceous Ariella Ferrera to deliver on a level like no other. This beautiful but tough looking chick knows how to humiliate men and get what she wants out of them without breaking a sweat and in this video update from CFNMSecret.com, the heavy chested babe enlists the help of her equally busty friend to milk some thick cream out of a peeping Tom's prick.
It takes a lot of work and dedication to look as good as Ariella Ferrera does and she doesn't take too kindly to having her workouts interrupted so when she's trying to perfect her already flawless body with the help of her friend and she notices a guy peeking at them through the bushes, she grabs him by the collar, pulls him out of the bushes and proceeds to teach him a lesson about the consequences of being an unwanted intruder during a private work-out session.
The aforementioned lesson turns into one of the most awesome CFNM handjobs ever filmed when the two chicks tag team to jerk off the horny dude. First they rip off his shirt, next his pants come off and then he is forced down to his knees where the girls crush his face with their gigantic asses. This is just the beginning of the fun though as the nude guy is forced to lay on his back and the chicks take turns smothering his face with their big butts before stroking his cock and then riding him until he cums hard. With the CFNM handjob punishment complete, the two chicks proceed to swap his cum load before swallowing it.