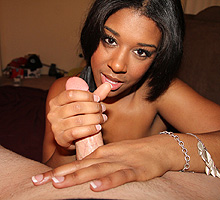 You gotta love fuck buddies especially when they are as hot as this chocolate ebony cutie! Her name is Megan Vaughn but I call her the world's best personal handjob machine because every single time Joey calls her up to jerk his cock, she shows right up! This video from their last hand fucking session together is available for your enjoyment at Ebony Tugs.com

Megan and Joey have always had an understanding – when either one of them needs some love, all they have to do is pick up the phone or simply show up at the other's door. Tonight Joey needs a release so bad so he calls Megan over and like the good friend she is, she shows up almost immediately and gets to work on Joey's big cock. She tugs the heck out of the white prick, stretching it and pumping it with all her might as Joey moans from up above her. Being the slick-talking babe she is; this ebony beauty asks her fuck buddy to cum on her sexy black tits to which Joey eagerly agrees.
The duo's handjob fun continues with Megan wrapping both her hands around the white cock and twirling it side to side before reaching underneath the shaft and playing with Joey's balls. She bites her bottom lip as she increases the pace of the stroking and right before Joey cums, she performs a triple maneuver on his cock by squeezing it between her boobs, stroking it and sucking it all at the same time until he explodes.