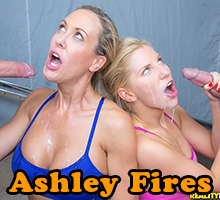 Ashley Fires has an amazing body that she works very hard at keeping in shape. The beautiful blonde has big breasts, rock hard abs, and a sculpted butt. She's working out with another beautiful babe today and the women are really working up a sweat. They look incredibly hot in their tight spandex gym attire that fits snuggly against their bodies. Both women finish up their workouts and grab a seat next to each other on the bench when they see two muscular males enter the private gym. The girls look at each other with wicked grins on their faces. They both have the same naughty idea of what to do with the two studs.
Ashley Fires grabs the attention of the men and calls them over to the bench that she's sitting on with her girlfriend. They both ask the men to remove their clothing and promises a very sweet treat if they do. Unable to resist the gorgeous blonde and her equally hot girlfriend, the men strip off their clothes in front of the ladies. They had no idea the women wanted them completely naked, but they didn't say stop, so the men stripped until they were bare!
To thank the sexy studs, both Ashley Fires and her girlfriend grabbed their cocks and started jerking them off. One guy at one end of the bench with Ashley, and one guy at the other end with Ashley's girlfriend. The two stunning women gave handjobs to the men until their cocks were fully erect. The women then sucked on them for a bit until both of the men had wet and lubricated shafts.
Ashley Fires demanded that the men tear holes in their spandex shorts and penetrate their warm pussies. Without saying a word the men bent both of the ladies over the workout bench, tore a hole in the ass of their spandex, ripped it wide open, and thrust their cocks deep inside. Both women moaned loudly at the same time. The feeling of two naked studs shoving their thick cocks inside the babes after a hard workout was pure ecstasy.
To see all the pictures and videos that go with this story and to see how far the clothed women make the nude men go, check out CFNM Secret!
Watch Ashley Fires Give A CFNM Handjob!