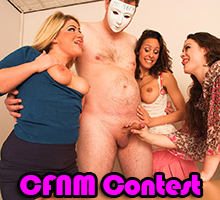 There are some crazy competitions out there today, but this is truly unique and wild. Three women invite three men over to get completely naked except for the masks they wear hiding their faces. Whichever woman can make their masked man cum first is the winner. The women remain clothed while jerking off the guys. They only flash their tits and asses briefly to gain an edge on the other women, if they are daring enough to do so.
The nude men make their way to the table and each one stands next to their assigned woman. They can see the women through the holes cut into the masks they wear. The women begin the countdown and when it's go time they immediately grab the cocks of the masked men and get to work. Each babe jerks the men as quickly as possible to get them a speedy erection. The women all talk dirty to their masked man to turn him on even more. "Cum for me you big stud," and "I want to feel this hard cock cum on my tiny hands," are just a few of the naughty things these wicked babes tell the men to hurry them along.
The ladies all laugh at how far they are willing to go in order to make these nude men cum and win the competition. They even begin to flash their boobs to their partners. The flashing seems to work at getting the nude men more excited so the women show off their asses and even pull their panties to the side flashing their pussies. The nude guys aren't sure where to look as the 3 women continue to talk dirty and flash parts of their bodies. One man finds it way too hard to resist the flashing all the women are doing and he cums on the table. The woman who wins the competition jumps up and down with her tits out and they bounce and jiggle all over the place causing another man to cum. The last man holds out for a little longer, but his load soon joins the others on the table.
The 3 clothed women laugh and compare the size of the loads the men have cummed onto the table. If you want to check out the 3 clothed ladies jerking the 3 clothed guys in HD video, take a look at PayServe.com!