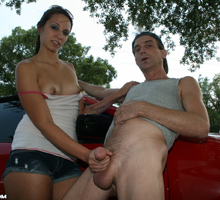 Ashley Storm is constantly on the hunt for guys with big cocks. She has a handjob fetish that can't be satisfied and she isn't happy unless there is a cock in her hands. This means she's willing to do just about anything to grasp a dick and wrap her tiny fingers around it. Ashley proves this to be true when she meets a homeless man getting a few dollars to wash someone's car. She spots the large package making an outline in the man's shorts and has to have it!
Ashley approaches the homeless man and asks him bluntly if he would like to receive a handjob. He was a little taken aback by the question. Ashley is a hot young brunette teen and he's a dirty and older homeless man. He was afraid it might be some kind of trick, but he went for it anyway and agreed. Ashley Storm squatted down in front of the homeless man and took out his cock. They were in a parking lot where anyone could see them and here she is stroking a homeless man's cock. Her extreme handjob fetish outweighs the risks to everything else.
After getting a good stroking pace going Ashley Storm rose to her feet and leaned against the car with the homeless man. They both smiled at one another as his cock grew thick and long in her petite hands. She couldn't believe the size of this guy's cock. He must be 10 inches long and at least 3 inches thick. This was the biggest penis she's ever given a tugjob to. The teen babe was in absolute heaven as she played with his heavy shaft. She wondered what type of load he would shoot. It has to be massive she thought to herself.
With that thought in mind she wanted to make him cum immediately. She started wanking his cock at a furious pace. The old man groaned with pleasure from the teen's hand stroking his dick so fast. He started thrusting his boney old hips into her soft and smooth grip. He was nearing orgasm and they both again looked at each other and smiled. Ashley Storm was about to get her handjob fetish fix for the day!