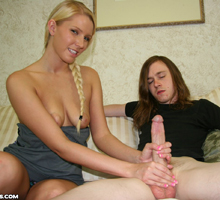 Vanessa Cage and her friend Jimmy were hanging out like they usually do. She considers Jimmy a good friend and loves the time they share together. During this visit, Jimmy brought his guitar. Vanessa begged that he play her a song. A little hesitant and shy, Jimmy agreed and began playing. Vanessa Cage couldn't believe how good Jimmy could play. She saw Jimmy in a whole new light from that point on. He was talented, cute, and…had a big cock!
Vanessa Cage looked down at Jimmy's shorts while he played and saw the outline of what looked to be his cock. The outline grew and grew until Vanessa was in complete shock. Does her good friend Jimmy really have a huge dick inside his pants? She had to find out, and she had to find out now! Vanessa Cage reached out her hand and grabbed Jimmy's crotch. Jimmy immediately stopped playing the song and looked at Vanessa wondering what exactly was happening. Vanessa just stared at his crotch as she felt along the big shaft still trying to figure out how big this monster inside his pants was.
Taking advantage of the moment Jimmy reached out and pulled down the straps from Vanessa Cage's shoulders. Her big teen tits with beautiful puffy nipples came into view. Jimmy could feel his cock becoming even harder in the hands of Vanessa. He decided to take it out and let her have a proper look. Jimmy unzipped his shorts and took out his monster penis. Vanessa Cage quickly grabbed onto the massive cock and tried to fit her tiny hands around it. She struggled, but managed to start jerking Jimmy off, right there on the couch. Jimmy was in heaven, he couldn't believe that his hot friend was showing him her tits and stroking his dick!
Vanessa Cage used her petite hands to continue to give Jimmy a handjob. His cock was now fully erect and Vanessa was in awe of it. Jimmy just sat there enjoying Vanessa's soft hands on his hard cock and was trying to make it last for as long as he could. He wondered if their friendship would change after this, but only for a second. This was a great handjob!