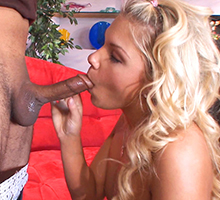 Aubrey Adams is a beautiful blonde babe with a petite body and small natural breasts. She's also very sexually aggressive and demands not only to be satisfied herself, but to sexually please her partner several times a day. As soon as her boyfriend enters their apartment, Aubrey attacks him with kisses and the first thing she grabs for is his cock. Even when they are just relaxing together she must have her hand wrapped around his cock through his pants. Aubrey Adams just loves cock!
Today, her boyfriend enters the apartment and instantly gets a hard on. He hasn't even seen Aubrey yet, but is so conditioned to having her grab his cock he can't keep it down. Then, the blonde vixen turns the corner and jumps up onto her boyfriend and grinds her mound against his erection. She kisses his face, licks his neck and bites his chest. She wants him now and won't take no for an answer, not that he would say such a thing. Aubrey Adams falls to her knees right in front of her boyfriend and starts biting his cock through his pants. She gently nibbles and massages his cock until she thinks he's ready.
Aubrey Adams takes his cock out of his pants and rams it down her throat. She reaches around to grab his ass and pulls him forward. Aubrey wants her boyfriend to start fucking her throat. He gladly does what she wants and starts thrusting his cock in and out of her mouth. He even grabs the back of her head and forces it down to meet his thrusts. Aubrey Adams is getting an incredibly brutal face fuck and loving every second! She cups his balls and grabs the base of his cock to jerk it on the way out of her mouth. Aubrey is a pro and her boyfriend can't handle the intense blowjob a minute longer. His cock and balls swell and are ready to shoot his load. Aubrey feels the first squirt hit the back of her throat and she happily swallows. Then, the babe lets her boyfriend cum all over her pretty face and she licks it clean while staring at him from below.