Sweet Bella Ink was getting pushed around at the club one night by her EX when Brad stepped in to save her. Well Bella did not get a chance to thank Brad that night BUT, When she did get a chance to show her appreciation for the assist she rewarded Brad really nice. Brad sat there waiting for some nice chit chat and to his surprise after very few words Bella was rubbing her hand on his shorts and before he knew what was happening she had freed his cock and to HER surprise it was a LOT more cock than she had prepared for.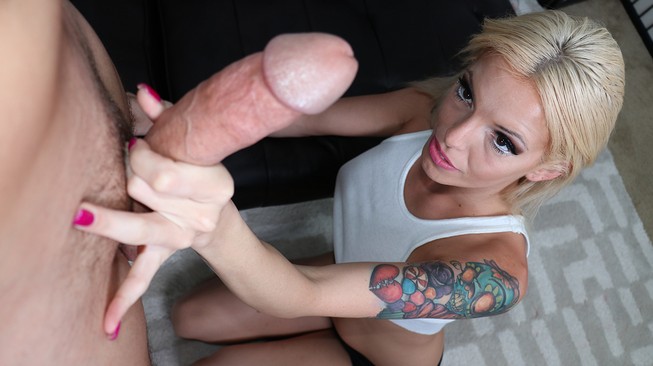 Her hand began working his swelling meat stick while she explained what had caused the fight with her boyfriend and also threw in some complements as Brad's every growing dick swelled to its capacity in her hand. Bella gripped it so tightly and stroked it at its base while swaying it back and fourth. Gripping Brads nuts with her other hand she told Brad how she wanted him to dump his cum on her pretty little face.

She dropped to her knees as Brad stood above her. She told Brad if she ever breaks up with her boyfriend she was coming back to feel that cock inside her tight little pussy. Brad asked to fuck her tits. She said "well, I guess that is not cheating" and promptly allowed Brad to slide his fuck stick between her soft white tits. Feeling he was going to cum he snatched his cock in his hand and aimed at Bella's hot mouth and let it rip. His load splattered across her face and neck mostly running onto her breasts. She cried "YES YES YES" as the last few drops dripped from Brads heavy dick. Cumbaths are all the thing and cum from all shapes and sizes on CumBlastCity!!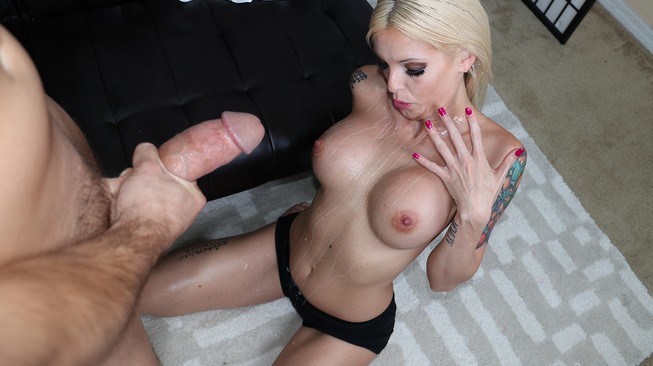 She then said, "Brad, I think I am going to go break up with my boyfriend now. Can you wait here? I am coming right back and I want you to fuck me".
Gotta give it to Bella… She may have her own ideas of what constitutes cheating but, she holds true to them.