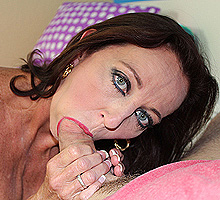 Ciara Blue is a force to be reckoned with when it comes to the cock sucking department because she has mastered the art of giving blowjobs right down to a tee and when she wraps her lips around a dick, you can guarantee that her skilled mouth will make it erupt. That's exactly what happens when her soft lips meet Billy's hard throbbing prick in this update from SeeMomSuck.com
Wives don't come any more perfect than the blue eyed wonder known as Ciara Blue. She cooks, cleans and even does the laundry. She also has a very high sex drive which is a good thing until she starts lusting after her step daughter's new boyfriend. The sexy big breasted MILF is determined to taste Billy's cock so she sends her teen step daughter off to get detergent and the second her step daughter steps out of the room, the horny older woman undresses and makes her intentions known to Billy. If he has any objections to fooling around with his girlfriend's step mom, the sight of her massive juggs silences him.
The orally fixated Ciara Blue gets on her knees in between Billy's legs and looks up at him as she slides his big dick inside her mouth. She starts off with slow and sensual licks, all the while enjoying the way Billy's cock is hardening in her hands. She tightens her lips around his mushroom head and sucks really deep before making her way to his shaved balls and sucking them gently. When she feels him stiffen as he prepares to cum she quickly shoves his big cock in between her big tits and gives him a thorough tit job until he explodes all over her monster boobs.