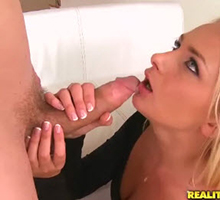 These two powerful women share many things in common. They are both wealthy, single, and enjoy keeping hot young men around the house to satisfy their sexual desires. It's clear to the men positioned around the home that these women are the masters of their domain and that they are merely slaves. If the men value their jobs and their livelihood they will follow directions and do as their master's command.
As the two women sit on the couch and talk about the yoga session they just had, the men in the background watch on, shirtless, for any command the masters may give. The gorgeous women are still fully dressed in their spandex outfits while the men are required to be shirtless, and often completely naked.
The conversation between the women ends with a command to the men. "Over here boys, drop those pants." The women instruct their male toys. They immediately do as they are told. The men stand in front of the clothed women completely naked with their cocks swinging limp. Both women take their man's cock and begin stroking them to erections. The women still sit on the couch while they give handjobs to their slaves. When they are nice and hard, it's into the women's mouths that the cocks now go. They suck both men off and prepare them for what's to come.
When both men are completely erect and their cocks stand firm, the girls bend over on the couch and demand the men tear holes into the back of their spandex to access their wet pussies. The men do as instructed and tear holes that expose the women's bare asses and pussies. The women then instruct the men to shove their stiff cocks deep into their pussies and thrust forcefully until they are told not to. Following orders, both men approach the women with their cocks leading the way and penetrate their waiting pussies. Both women look at each other, smile, and even kiss and fondle each other as they take cock from their slaves.
There is much more to this story and lots of wild sex to be had by the clothed females and nude males. Click on the link below to watch the videos that go with this story!