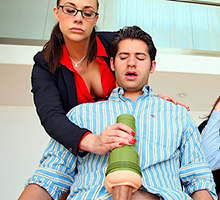 A new sex toy product made it through to the testing phase. The product is called, pussy in a can. In order to test it properly real test subjects would be needed. Real men, with real cocks to be stimulated had to be found. As you would expect, men didn't want to jerk off in front of doctors. That is until the doctor's pictures were released with the testing flyer. Two hot babes, also legitimate medical doctors, were put in charge of manually testing the product on the men. There was a flood of applicants who all wanted to be jerked off by the two very hot and very smart women.
A lucky two finalists made it through to the testing phase and were to be administered handjobs to get them hard before the new sex toy would be applied. The men sat in the lab and waited, unsure as to what would happen and when. Then, the two gorgeous doctors entered the room, unzipped the pants of the each man, and begin stroking their limp dicks. The men were in heaven as the doctor's soft hands worked up and down each of their shafts, gradually getting the two men hard. The two female doctors stroked their cocks until they were fully erect and unable to grow any more.
Both doctors looked at each other, stopped the handjobs, and left the room. The men looked at each other in confusion and watched the doctors leave. They were both upset and very disappointed until just a few seconds later the doctors came back with the "pussy in a can." They then looked at each other, smiled, and knew they were about to receive an amazing fuck from the sex toy the doctors each had in their hand.
From behind, the doctors reached around to the front of the men and lowered the sex toy onto their cocks. They immediately began fucking each dick with the pussy in the can. The men let out moans of pleasure as the tight pussy sucked and squeezed their shafts with each upward and downward thrust. The doctors increased the pace of the fucking these men were receiving. The men moaned loader and more frequently. All of the details were being recorded. As the men were about to cum, something unexpected happened. The doctors immediately stopped fucking their cocks with the sex toy and took them away.
Check out what happens next and how this story turns out by clicking the link below. You will find a picture gallery and if you join the site, a full video of the entire experiment!