Mia Vallas is a sexy tall blonde has been working to get her license to be a masseuse and this was her very first client and she was so excited. She came into work and was getting ready to go into his room where he was waiting face down on her table. She went to work and started his deep tissue massage, all the way from the tips of his toes to the point where she was sitting on his back and rubbing his body with her soft hands.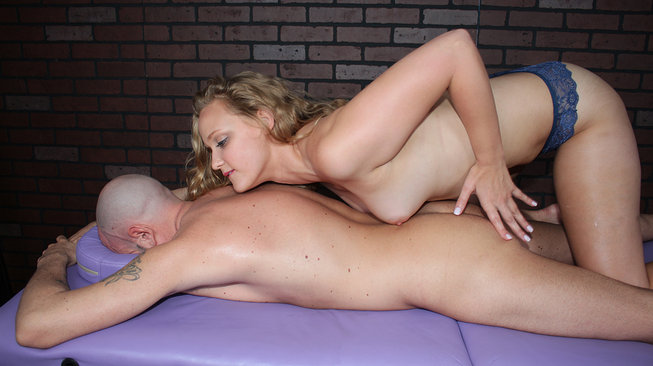 Mia Vallas was getting more turned on b y the minute and pretty soon she was pulling her own clothes off and climbed on his back and began to rub her small perky tits down his bare back. His towel was gone by now and she was rubbing her hands on his bare man ass while her nipples were poking him in the  back. Mia was getting into the massage as much as he was. She is so turned on by the time she sees his cock that she could barely contain her throbbing pussy.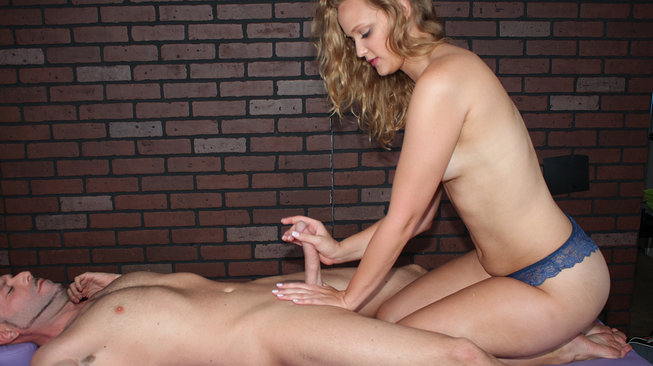 She got her hands lubed up and started to massage his cock while caressing his balls with her other hand, feeling them fill up with cum under her hand. She was getting so turned on that before either of them knew what was going on, she had flipped around and climbed on top of him and was sitting on his face, with her panties between his mouth and her pussy, this was a bigger tease to him because he could feel the warmth from her sweet smelling pussy and got a hint of the perfume of it, but could not see it or do anything about it. Mia Vallas hoped she could make him a regular client on Clubtug.com and that he'd come back often and request her, she was so turned on by him and wanted to see him again already.