Michelle Martinez has had a secret crush on her step brother, Brad for a long time and she would lay in her bed and play with her shaved pussy thinking about him. She is petite and her cunt was tight as hell, even she knew that and she knew she could fuck him better than his girlfriend. One afternoon she got the opening she needed. He came home pissed because he found out his girlfriend was cheating on him. She was determined to make him forget about her and she nagged and nagged.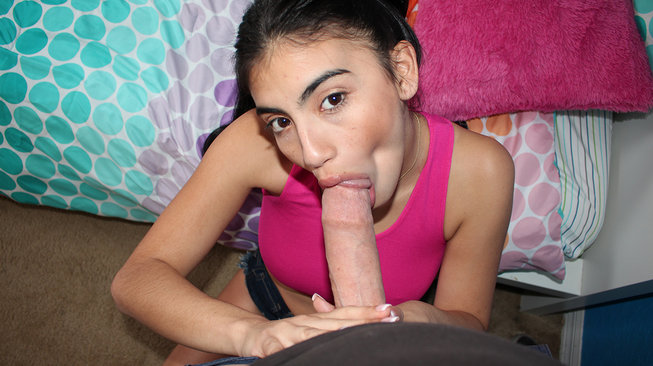 Michelle got her hands on his massive cock and once she did, his anger and hesitation was all gone, if this wasn't a great way to get rid of anger, he wasn't sure what would do the trick.She could suck a cock better than his girlfriend and made him wonder why he had turned her down so many times before now. Her Latina handjob skills were perfect and she definitely knows what to do. She rubbed his balled and cupped them in her tiny hands and played with them while she took the tip of his cock into her warm and very wet mouth.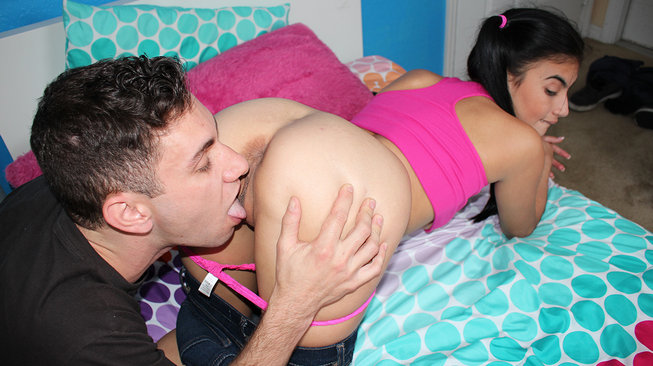 He enjoyed that so much that he decided to return the favor and bent her over and started working his tongue on her petite shaved pussy. Michelle Martinez was squirming and getting more turned on by the minute, she didn't expect this much from him, but she could barely sit still, her clit was throbbing under the spell of his tongue snaking out to lick her pussy. This was a long time coming and she knew that it wasn't going to be the last time. After a few minutes, he flipped her over and fucked her hard in that sweet petite18 pussy and gave her a warm and much anticipated amateur creampie.