Mrs Lopez new socks – 11 Min HD Handjob Video and 150 Club Tug Photos

Oh boys, do I ever have something for you today, I have a girl that will cover all the things you are into, from sock feet footjob to an erotic handjob, she does it all, and she is bendy, don't tell me you don't like that at all, I won't believe you. At one point she is wrapped totally around his cock.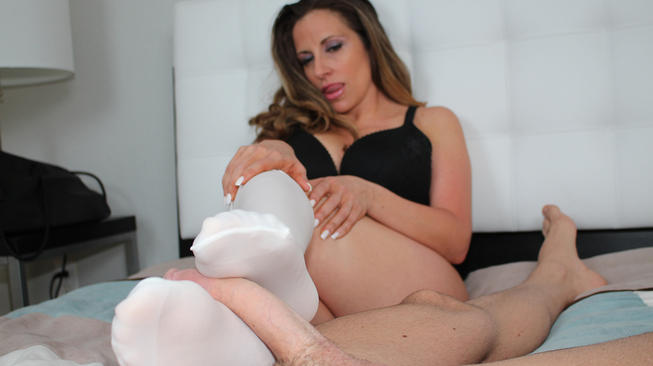 Sienna Lopez got herself some new white socks and she thought of what she was going to do with them at her encounter later today. She came home and this horny Latina babe is sporting her new long socks. She strips down to her socks and black bra and panties and starts rubbing his cock with her sock feet. This  sexy milf knows he has a sock fetish so she started trying to make him happy by getting the sexiest pair she could find. She wrapped both of her small feet around his cock and started to stroke his cock with those soft white socks.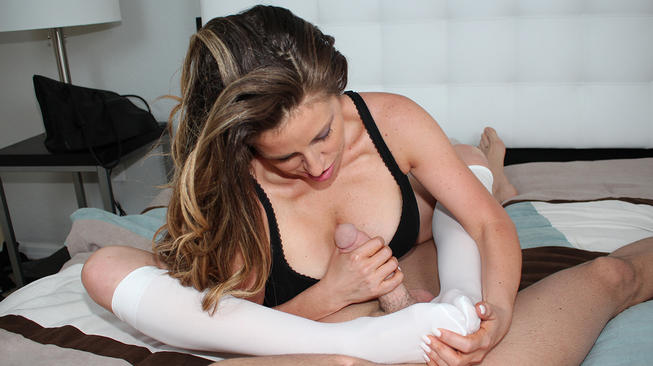 Soon she decides she wants to give him a handjob, because that turns her on, but being the sassy Latina that she is, Sienna Lopez finds the perfect compromise, she gives him a handjob, titjob and footjob all at the same time. She wrapped her entire body around his cock and this made him instantly hard and she could feel his cock and balls pulsing under her whole body. She is about as limber as they come and any guy that likes handjobs and footjobs should be proud to have her around, she just does it all, all wrapped up in one petite Latina milf. Clubtug.com has her and many more like her and she is definitely one of the favorites, for sure.