So this older chick, Raven Hart, moves in next door last fall. She looks to be in her older 30's or so. But man is she hot. A perfect body and a pretty face. I must admit that I spent the winter beating my cock thinking about her often. A buddy of mine told me his dad said she was a stripper in her younger days. That made my 18 year old cock even HARDER for her. Well, in the spring I had my chance to meet her and I went for it and I am SO glad I did.
I had seen her doing yard work in the afternoons. One Saturday my Mom said the "neighbor lady" stopped by this morning and said she needed help this afternoon If I would be interested. OF COURSE I was interested! I had been dying to get a close up look at her. I tried to contain my excitement but my Mom grinned to let me know it was too late. She seen it.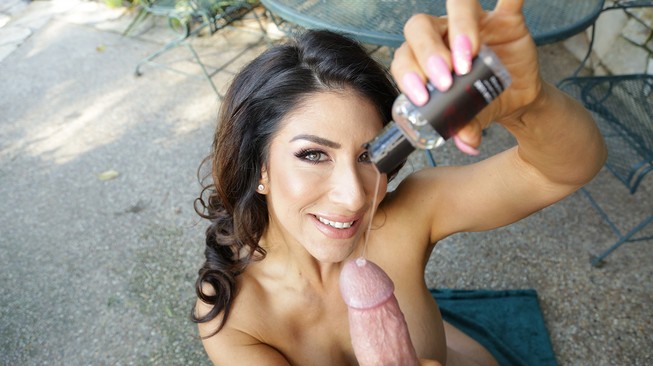 I wandered over after 5 or so and she spotted me right as I walked onto her patio. Dressed in her cutoff shorts and an old Def Leppard T-shirt tied just under her big bra-less tits. She greeted me with a huge smile and a hug. I was overwhelmed at how good she smelled and felt. She said "lets cut to the chase here"… "I know you have been looking at me and I have been looking at you as well". I blushed and almost ran back to the safety of my yard. She held my hand and said she needed someone to help her with HER needs and maybe she could teach me a few things over the summer that I could use in the future. I softly grunted out a soft "ok" and she said "look, I'll go first… but then it will be YOUR turn understand"?
With a quick snap of her fingers she popped the button on her shorts and in one swift move she proceeded to throw them towards the back of her house. My eyes following their flight and then coming back just in time to see that her shirt was flying just behind them. I was amazed at how big her tits were. she quickly fell to her knees tugging at my zipper. I could feel my hard cock pressing ever tighter as my zipper fell it popped right out effortlessly to her surprise. She wasted no time grabbing it and complementing me on it.This amateur milf pov handjob was a huge turn on for all of our fans!!!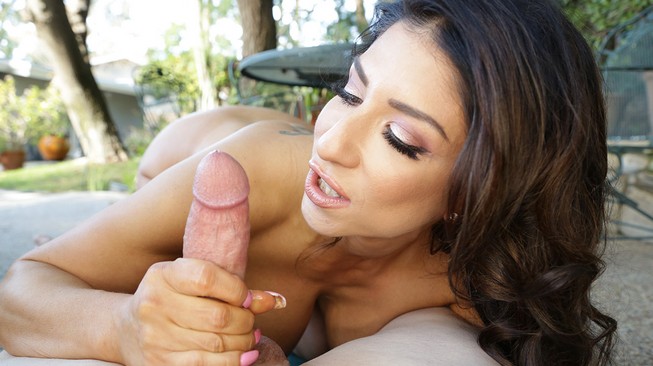 She teased me grabbing a nearby salt shaker and declared "I hope I got enough seasoning for this big ol' piece of meat" I was so overwhelmed I almost felt light headed. This was the greatest moment of my life… Then she wrapped her hot wet wonderful mouth around my throbbing cock. I was absolutely in heaven! Her skills were like NONE of the high school girls I had convinced to try this. She was a MASTER. She attacked my dick with her swirling tongue covering what seemed at times to be the top,sides and bottom of my dick all at the same time. Her pursed soft lips gliding gently back and fourth with her hand pounding the bottom half of my cock the entire time.
At one point she picked up a pepper shaker and poured some on proclaiming "I like it hot?! I felt it for a minute but she quickly cleaned it off with her slurping and sucking. I told her I was going to cum… she made me lay down on my back stripping off my jeans and said "Lets not get your pants messy then". Once again she slid my cock into her beautiful face but this time she really locked on to sucking hard and stroking it. she wanted me to cum.In Over40Handjobs, you get access to this full network!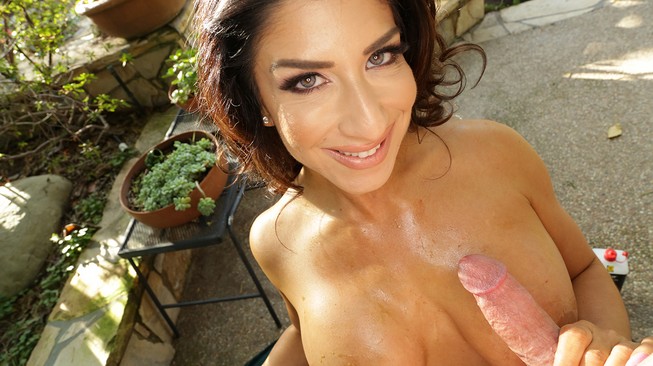 I could feel her big tits brushing against my legs as she picked up her pace and began to play with her pussy with her other hand. Her moaning had gotten pretty loud now covering the slurping and sucking sounds that had been filling the airwaves a minute ago. She pulled her mouth off while she continued stroking in rhythm just long enough to ask "Tits or mouth"… I said "tits" without hesitation. I really didn't comprehend what she meant, I just wanted to see them again. It was all happening so fast I couldn't think.
As the first twitches of my orgasm began she pulled back and I just stood up… She tilted her head back and pointed my cock at those tits I had felt rubbing my leg earlier. I felt my knees get weak as the first spurt of hot jism exploded into the air onto her neck and hair. With a series of quick twitches I quickly emptied my sperm sacs onto her awaiting sweating jugs while she smiled and continued to pound my cock with her hand and every so often taking a quick taste of my sac spray flicking the tip of her tongue across the end of my quivering shaft.
And just like that it was done. She never got dressed again that afternoon. After a glass of ice tea she made me live up to MY end of the deal. And we spent that entire summer wheeling and dealing. Best summer of my life so far!