Well Gianna Love has been a VERY bad girl lately. And overridden with guilt she decides to confide in her step brother who is also the Pastor of a local church. She finds Pastor Dan in the bedroom inside the church for emergency situations writing next weeks sermon. Pastor Dan invites her in and sees that she is troubled and offers her a seat on the bed and allows her to get things off her chest.
Dan does NOT expect what he hears coming out of his step sisters mouth. More so, He didn't EVER expect to be so turned on by Gianna Love… How WRONG can this be. But as her stories of lust continued The Pastor found himself squirming with a hard on that was getting more and more uncomfortable tightening in his jeans. And Gianna took notice of his bulge.

In a moment of unbridled passion Dan stood and dropped his pants freeing his cock from his confining jeans just as Gianna stood and stripped completely nude in front of him. He stood there shocked for a moment before Gianna pushed him back on to the bed and grabbed his swollen cock and slid he well experienced warm mouth over it. She pounded his cock with her hand as she lapped at his balls. Dan groaned in pleasure before rising up and turning the tables and letting Gianna know he wanted to taste her pussy.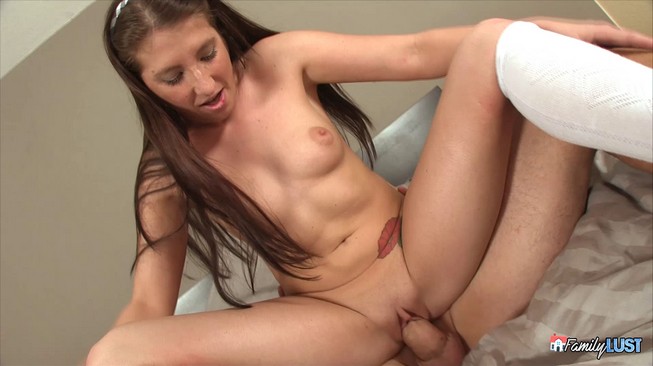 The Pastor tenderly licked and sniffed his Step Sisters fragrant little fuck box and then started sucking her fuck flaps into his mouth one after the other in succession before plunging his tongue into her wet slit boxing her clit as her hips rose to meet his rhythmic lapping. Her pussy began leaking he fuck juice all over the Pastors face ass it eventually found its way down the crack of her ass onto the bed.
In a moment of doubt Gianna stopped and said "I don't think we should" and Dan cut Gianna Love off and stood and flipped her over and exclaimed it was too late… the deed had begun. Gianna felt extreme guilt as Her Step Brother entered her sloppy wet fuck hole from behind and began relentlessly pounding her pussy in what felt like an anger filled fuck frenzy. If you can't stand it and need more, FamilyLust is jam packed with high quality videos you can download!

Dan rolled her over once again and continued to pound away at her cock hungry little cunt. He fucked so good and his cock felt so much better than any of the "boys" she had played with before. Gianna finally let herself go and happily gave herself and her young barely experienced body to the Pastor fucking him in position after position until the Pastor grunted that he was going to cum. She then layed back and accepted his hot load in her face with a smile.
As they cleaned up and got dressed Gianna asked if she could come to him in the future with more problems… Pastor Dan said "of course… ANYTHING to help the flock".