Lexi Luna, the horny and very busty massage therapist is in for a treat today. Just check out here cumshot handjobs! John came in for a session today and he hadn't jerked off in weeks so he was backed up like a dam that's about to explode. She got him on the table wearing nothing but a towel and started to rub him down and lube him up. Running her hands up and down her body with a firm but ever so gentle touch. She kept rubbing and working his muscles, avoiding the one muscle that she could see growing bigger by the second. Once she could see his full length under the towel, she then reached for the towel and pulled it back gently.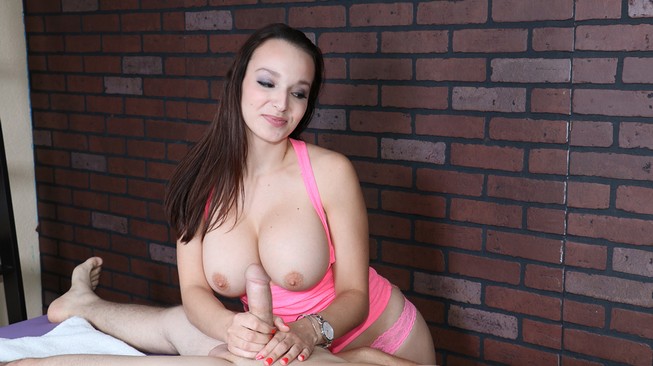 Here she was playing him like she was going to have the upper hand and was going to control this situation and let him cum when she decided to, because she loved teasing cocks. She stroked him with both of her hands and pulled her boobs out to tease him further with her great big tits. She was doing everything she could do to tease him to insanity with this busty handjob, and he was playing along, but he was intentionally not telling her he hadn't ejaculated in a good while. Lexi Luna just kept touching and rubbing his cock! She was unaware of the trip to Cum Blast City that she was about to take.
She hopped up and landed her body right between his legs to get better leverage.She was double fisting this massage handjob and making sure she was holding on tight and stroking his cock hard enough to make him cum. She pumped his cock like there was no tomorrow and kept doing this until she could feel that throbbing indication that he was about to shoot his load. She was still unaware of the amount of cum she was about to get all over her and him both. And then before she knew it, he exploded and his hot jizz went all over her hands and covered his own stomach with this milky white and sticky jizz!! This is just a sample of what is to come, pun intended, when you get access to CumBlastCity.com and the rest of this network of sites.