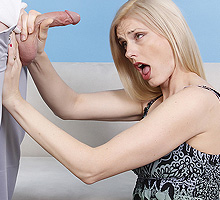 If I had the ridiculously hot Darryl Hanah as my stepmom, I would be getting in all sorts of trouble especially given how she punishes her stepsons! Case in point is this episode from ClubTug.com where the stunning blonde MILF's stepson screws up big time and instead of being grounded or even scolded; he gets to find out what a first class whore his new stepmom is.
Darryl Hannah is not amused when her stepson sits down on her very clean couch while wearing dirty clothes so she decides to punish him by unzipping his pants and playing with monster dick. The mature blonde nympho is shocked at the size of her stepson's cock and she doesn't even try to hide her surprise as she strokes some life into the limp cock.The cock hardens and protrudes forward with each hand stroke and Darryl Hanah seduces her stepson with her eyes while kissing his cock. When the cock is well lubricated with her saliva, the sexy MILF resumes jerking off the lucky guy who is very grateful that his dad is nowhere in sight as he gets serviced.
Darryl Hanah is super skilled when it comes to cock tugging and she uses strong slow strokes to drive her stepson to the edge of an orgasm. She is so good at what she does that he moans uncontrollably when she uses both hands to apply pressure on his prick in a rotating motion. With her stepson unable to hold it in any longer, the beautiful blonde goddess strips naked and alternates between sucking his cock and stroking it until he bursts his nut all over her tits. Some dudes have all the luck in the world!