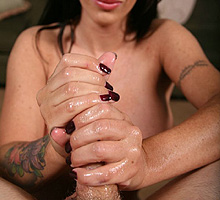 Jenna Presley is a dark haired beauty on a mission to get into a bit of trouble. Her kind of trouble doesn't involve any cops or handcuffs though but it definitely involves her getting down on her knees and milking a big cock with both her hands until creamy juice comes spurting out of its head and onto her tongue. Her very impressive hand tango with the massive prick can be seen in this picture gallery from ManoJob.com.
Her gigantic tits and big ass make her a firm fan favorite but once you witness the lovely Jenna Presley stroking the heck out of a cock, you'll become a fan, if you aren't already one. Wearing a cream top that shows off her cleavage, the busty babe kneels before a cock and holds it between her two thumbs and index fingers. She then slowly strokes it to life before spitting into her hands and lubricating the cock with her own saliva.
Jenna Presley then takes a quick break to strip off her clothes and show off her sexy assets but she leaves her high heels on and proceeds to flaunt her tight butt hole and stylish trimmed pussy. A few poses later, she is back on her knees but this time instead of using saliva, she grabs some lube and drips it all over the hard cock in her hands. She then resumes working the all oiled up cock up and down with her strong arms. The brunette babe twists the cock with her tattooed arms a few times before sticking it in between her big tits and giving the lucky guy a titjob.
Her handjob skills are so good that the dude can't hold back from cumming and when he shoots out his load, it lands smack dab on Jenna Presley's tongue. You can see this stunner and other pretty girls using both hands to get men off at ManoJob.com.