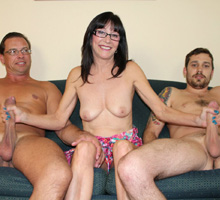 You've heard of the legendary "my cock is bigger than your cock" contest guys usually engage in but now get ready to witness the ultimate cum blast contest. It's between a father and a son as they both try hard to impress a sexy milf with their big dicks and each one tries to prove his ability to cum faster and harder than the other guy.
The MILF in question is none other than the gorgeous Jessica Sexxxton – who just happens to have seen quite a few cocks in her lifetime and yet the mere sight of both cocks standing erect excites her. She makes herself comfortable in between the two guys and caresses their inner thighs before grabbing their cocks real tight in her small palms.
The dicks are so big and Jessica Sexxxton gets moist in between her legs just from feeling them throb in her hands. She strips off her dress to air out her saggy tits before getting to work stroking the cocks with all her might. The father and son duo has a wager going on to see which one of them cums first and they high five each other as the hot MILF jerks their cocks at the same time. She then takes a breather and focuses on the dad's big cock for a second before turning and showing the son some hand-loving too.
Jessica Sexxxton then throws a leg over each guy, gets comfortable and resumes giving her strong hands a very good workout by stroking the two men's big cocks at the same time. To see who wins this super close cumming race, view the full length videos at Over40handjobs.com